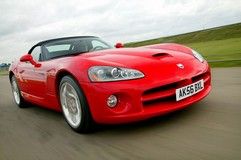 No Ferrari motor for the Viper
Dodge has quashed rumours that the union of Fiat and Chrysler might bring anything in the way of meaningful
collaboration between Ferrari and Viper
, but not before fanning the flames of speculation for a while.
In a statement issued on Tuesday after the 2010 Dodge Viper ACR set a new lap record at Laguna Seca, Dodge brand chief Ralph Gilles said: "When we have partners across the ocean who are known as the best sports-car makers in the world, the future opportunities are huge."
But before you start to get wound up about the fascinating prospect of a Ferrari V8 or V12 motor in a Viper, or the horrific prospect of a Viper V10 in a Ferrari, it seems that Dodge is after information, not platform sharing.
Gilles revealed as much when US magazine Auto Week got in touch with him. "They really know sports cars. We just want some advice," said Gilles. "Ferrari is Ferrari, Viper is Viper. Please don't go there."
So there you have it - Viper will remain a deep-pan meat feast, while Ferrari will continue to be a thin-crust quattro formaggio, but Viper's oh-so American products might just get a spot of secret Italian seasoning.