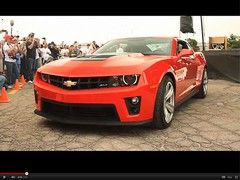 "It's the most technologically advanced and powerful Camaro we've ever done." These are the words of Chief Engineer Al Oppenheiser, who took a few moments out to describe the new super-hot Chevrolet Camaro ZL1 (the car that has reportedly
encouraged Dodge to bolt on a supercharger to its Challenger and Charger models
, and which is due out early next year).
Although the headline figure is a bhp output 'in excess' of 550 (some rumours tell of nearer 570), the ZL1 isn't just a beefed-up engine (although with a supercharged 6.2-litre V8, there is an element of that); almost a third of components have been redesigned over the regular Camaro SS.
The most obvious changes are a new front splitter, a taller, lower grille, bonnet louvres on its carbon fibre 'mohawk' bonnet bulge, and a new rear spoiler and diffuser.
Beneath that bodywork are 285 35 R20s tyres on the front, 305 35 R20s, as well as six-piston calipers to bite down on the front brake discs and four-pot jobs at the rear.
Inside, Chevrolet adds suede to the seats, steering wheel and gear lever, while magnetic ride control developed from the system on the Corvette, helps out the handling.
"You get inside this awesome-designed car, and you're going to be a winner at the end of the day," says Oppenheiser. We couldn't have put it more enthusiastically ourselves...