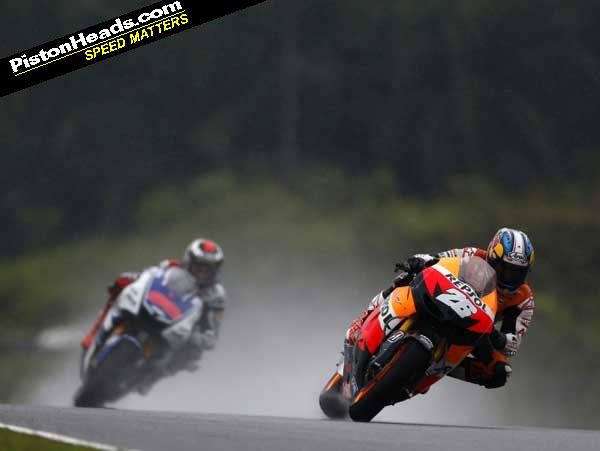 What must have been going through Jorge Lorenzo's mind on the damp Sepang grid? A lead of 28 points is a nice cushion, but one that can all fall apart very quickly - especially in the wet. A sopping wet race ahead and you have to feel for the Spaniard.
Choice of tyres was limited - soft wet or hard wet rear. Dani Pedrosa went for hard, Jorge soft, could the championship turn on this decision? Off the line and once again it was a battle between two riders for the win as Lorenzo and Pedrosa broke clear. Behind the leader, Dani looked like he was trying to force an error in the treacherous conditions but having failed to do so simply overtook Jorge mid-race.
The main interest came from the battle behind the leaders between Andrea Dovizioso, Rossi, Casey Stoner, Cal Crutchlow, Stefan Bradl and Nicky Hayden who were all fighting for the final podium spot.
First Dovi and then Ben Spies hit the ground in a flurry of crashes that also saw Cal come a cropper and then Bradl - letting third place Stoner off the hook. Which is where it got interesting...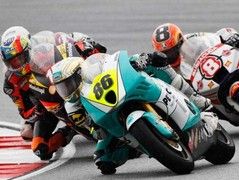 Lunatic local Hafizh Syahrin livened up Moto2
Towards the end of the race the Australian started to close the gap on second place Lorenzo, a move that would have helped his Repsol team mate claw back the advantage. With Stoner breathing down his neck and the conditions worsening Lorenzo was signaling for the race to be red flagged and then had an enormous moment that could have been pivotal for the title. But as it turned out it wouldn't have mattered anyway as the race was red flagged - another 25 points to a pissed-off Dani, a second to Jorge and Stoner third. Now here is what PH2 can't wait for. The next round is Australia - Stoner's last home round before he retires and for Dani to be in with a chance of winning the title he needs to win the race. Can you see Stoner obeying team orders and pulling over in his Phillip Island swansong?
Moto2 mayhem
A very Moto2 race saw Marc Marquez only needing to beat Pol Espargaro to get the championship - the only problem being Pol was on pole and looked determined to take the fight all the way. An unusually non-aggressive Marquez dropped down the order while Brits Bradley Smith, Scott Redding and Gino Rea made the most of the very UK summertime conditions...
Wet Moto2 races are always entertaining and with three Brits in the top five there was plenty to cheer, especially when Rea made it to third spot! Never short of bravery, Rea cut the gap to the leaders and looked like he fancied a pop at the lead - not bad from 22nd on the grid! Down the order Marquez was ahead of Espargaro, so all was going according to plan for the Spaniard.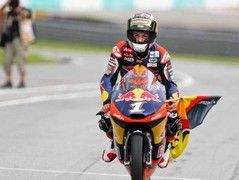 Sandro Cortese took the Moto3 race and title
16 laps to go and Rea was in second place and showing why he has such a reputation for wet weather riding, although Anthony West isn't too bad either and he slotted into an unlikely third. Then it happened; 12 to go and Gino Rea led the race - could he hold on? Unfortunately here was a slight issue behind - crazy wildcard Malaysian rider Hafizh Syahrin. An awesome display of lunatic riding saw him take the lead with 11 laps to go - then the real drama happened...
Marquez crashed out of the race with six laps to go and failed to get his bike going again. 12th spot was enough for Pol to keep his title hopes alive, all be it by the slimmest of margins.
Back at the front Rea took the lead from Alex De Angelis and West, but unfortunately for the Brit he did it a lap too late. The red flags came out after a downpour and on count back Rea was third, West second and De Angelis first. Gutted but superb riding Gino and also a big PH2 shout out to loony Syahrin - someone give him a full time ride!
No Maverick in Moto3
Moto3's big news was the absence of Maverick Vinales after a falling out with his team - an expression involving toys and prams springs to mind... The crowd didn't care as Malaysian rider Zulfahmi Khairuddin was looking to win his first race in front of his home crowd. With dark clouds looming, Jonas Folger lead the way with championship leader Sandro Cortese just needing a podium to tie up the title and Khairuddin and Luis Salom in the frame. Despite only needing a third, Cortese spoilt the Malaysian party after a hectic last lap saw the German take the win and championship in style on his KTM - leaving Khairuddin in second after a bit of a wobble on the last lap. Close but no biscuit. Danny Kent got a strong sixth spot.