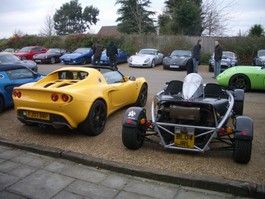 Manor Farm Barn 2008
EVENT NOW FULL, THANK YOU
We hope you had a lovely Christmas Day, and you got everything you wanted. But we also know that you are probably climbing the walls right now as Aunt Maude insists on watching an old movie and sips her way through your drinks cabinet. Never fear, as the last PH meet of 2009 is upon us offering you a chance of escape.
Drop the family off at the nearby shopping centre and join us at Manor Farm Barn on Monday 28th December from 10.30am for another PH meet where you can enjoy other PHers' metal and meet friends old and new. Grub will also be available as pub landlord Terry and his team will be offering a late breakfast/early lunch from the BBQ with sausages, bacon and burgers and plenty of tea and coffee to keep us all warm.
Space is available for a maximum of 250 cars and will be offered on a first come, first served basis. Please keep an eye on the list of attendees for an idea of numbers and add your details here if you fancy coming along. Please do your best to not arrive any earlier than 10.30 as the gates won't be open and parking outside the venue is very limited.
EVENT NOW FULL, THANK YOU
Pictures from the 2008 meet can be found here