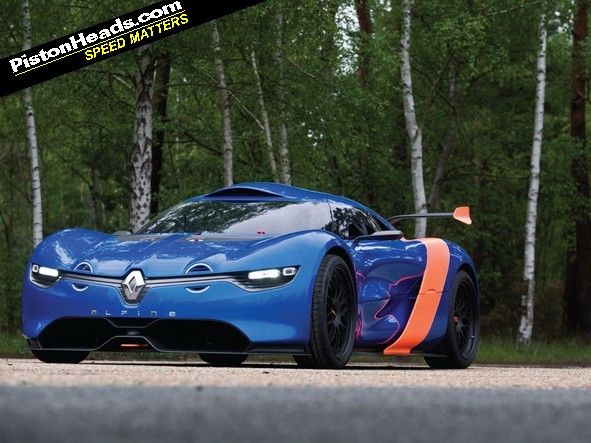 Renault has finally unveiled the Alpine A110-50 at the Monaco GP, to celebrate 50 years since the appearance of the first car to wear the Alpine badge - the Berlinette.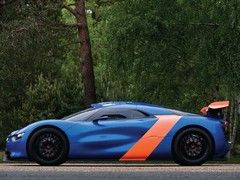 As we've
previously reported
, the new car uses the 400hp mid-mounted V6 from the Megane Trophy racer, linked to a semi-automatic six-speed sequential gearbox, as well as a twin-plate clutch that can be controlled using either the clutch pedal or a paddle on the steering wheel.
The concept also uses a chassis derived from the Megane racer, meaning tubular steel spaceframe construction, and fully adjustable double wishbone suspension all round.
The carbon fibre bodywork, meanwhile owes more than a little stylistically to the DeZir concept car from a couple of years ago, but features a 'new shade of blue which refreshes and reinterprets the famous original Alpine Blue'. It also features an adjustable rear wing that produces up to two thirds of the car's downforce, along with ground effect from the rear diffuser and front splitter that creates the rest.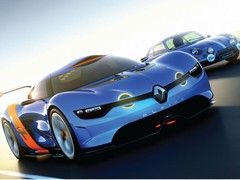 "Developing this concept car was a great adventure. It was a catalyst for creativity," says Axel Breun, Concept and Show Car Director. "We wanted to make a Berlinette that was of our time, and which boldly embodies Renault's passion for motorsport. We were guided by our hearts and emotions."
All very nice, but will Renault actually make it? Our colleagues over at Autocar have been told that Renault is hopeful: Speaking to Autocar at the Geneva motor show, sales and marketing boss Stephen Norman said: "[We will] do everything we can to make it [the Alpine] work for production. If we could make the sums work, which we are desperately trying to do, we could do it in 30 months."