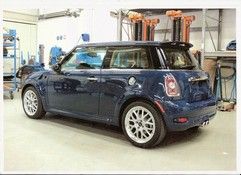 Rolls-Royce trimmed Mini 'spy shots'...
Rolls-Royce and BMW execs have confirmed the existence of a project to develop a bespoke luxury version of the BMW Mini, which will potentially be offered as the 'ultimate' option through Mini dealers.
One car - based on a JCW Mini - has already been prepared by the Rolls-Royce wood and leather workshops, and was shown confidentially to Mini dealers at their annual gathering earlier this year.
Unlike Aston Martin's Cygnet - a project to rebrand the Toyota iQ and thus help reduce the company's CO2 footprint, the Rolls-Royce trimmed Minis are not designed to be offered for sale via the R-R network. Indeed it has not even been decided whether the cars will carry any Rolls-Royce badging.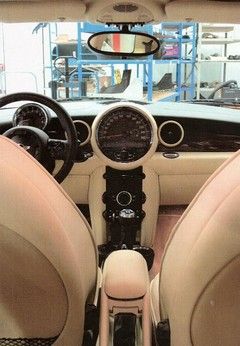 ...reveal luxury interior trim
The project was instigated by Mini brand marketeers looking for ways to emulate some of the luxury kudos associated with the original Mini through the work of coachbuilders like Wood and Pickett and Radford.
No time-scale has been announced for the project, and Rolls-Royce says there's no imminent production plan - but that 'concept work' is ongoing.