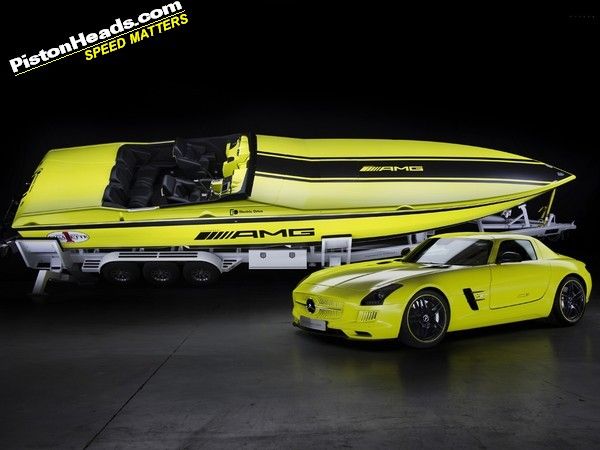 Yes, we know it's a boat. But powerboats are cool – fact. And that this one is powered by the technology behind arguably the PH-est production electric car of all makes it doubly so.
While most boats are called 'Hazy Daze' or 'Dragonfly', or something equally whimsical, AMG has gone with the unremittingly functional 'Cigarette AMG Electric Drive Concept' for this creation. Which is, frankly, a poor effort, so we've decided to call it Cedric for short. Don't be fooled by the prosaic name, though – the high-performance powertrain fitted to Cedric  means she (yes, all boats are feminine – apparently, them's the rules) will hit 99mph. That's unintentional-swear-inducingly quick on water, and it makes her the fastest electrically-powered motorboat in the world.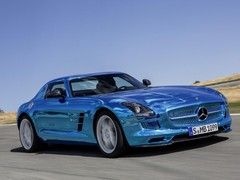 SLS ED provides the motors. Twelve of them.
AMG is keen to point out that all that power is thanks to technology that was developed for the
SLS AMG Electric Drive
. In actual fact, Cedric uses the same liquid-cooled permanent-magnet synchronous electric motors as the SLS; the only difference is that where every SLS features four of these motors, Cedric has twelve. That gives her a not-inconsiderable total power figure of 2,220hp, with maximum torque coming in at an equally effervescent 2,211lb ft. Blimey.
Those figures compare rather favourably with the SLS, which can 'only' boast 740hp and 737lb ft by comparison. Mind you, without the extra drag of the water, the SLS will still crack an artificially-limited 155mph. Have that, Cedric.
Cedric's been developed in conjunction with Cigarette Racing, a powerboat racing outfit that AMG has had a long association with, and while as her full name suggests, Cedric is only a concept at the moment, she proves the potential for high-performance electric drivetrains in marine applications. All of which is just smashing. Now, AMG, how's about something Cigarette-shaped with a pair of Black Series V8s in it? Oh, go on...