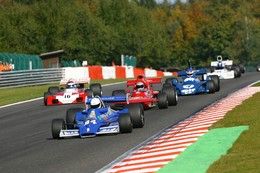 The grids are shaping up nicely in preparation for the Spa Six Hours, and the organisers have sent us this (rather exhaustive) list to whet the appetite of those planning on heading over to be a part of it.
So make a coffee, take a deep breath (not while drinking the coffee- you might choke) and wade thorugh this smorgasbord of vehicles, written exactly as the organisers sent it to us (we liked the 'continental passion' that shines throughout, so left it unchanged)
Grand Prix Masters
A decade of Grand Prix scrolls before your eyes with these Formula 1 cars built between 1968 and 1978. Enjoy the sound of 3 litre motors and see the aerodynamic manoeuvres of the first Formula 1 cars fitted with ailerons. This will make you 40 years younger at a glance...
Cars taking part include: Amon F101, Arrows A1, Brabham BT42, Fittipaldi F5a, Hesketh 308E, Lotus 79, Lotus 80, March 701, March 751, March 761, Matra MS80,McLaren M26, Shadow DN5, Shadow DN9a, Surtees TS19, Surtees TS20, Surtees TS9, Token RJ 02, Trojan 103, Williams FW05, Williams FW07,...
Masters Sports-Cars
These prototypes wrote endurance racing history, be it at Le Mans 24 Hours or in the races of the World Endurance Championship. Built before 1974, these fireballs were epoch-making… and continue to make children and adults dream.
Car taking part include: Abarth Osella PA1/04, Alfa Romeo 33TT, Chevron B16, Chevron B19, Chevron B8, Cooper Monaco, Daren Mk2, Elva Mk VIII, Ferrari 512M, Ford GT40, Ginetta G16, Lola T210, Lola T70 Mk3b, Lotus 23B, Merlyn Mk VI A, Porsche 911 RSR, Taydec Mk3,...
Historic Grand Prix Cars Association
The Historic Grand Prix Cars Association was created in 1979 by a group of historic racing enthusiasts who were fully determined to keep alive the spectacle of Grand Prix cars dating from the 1920s through to the 1960s. The drivers must own their cars and must meet two requirements: respect the authenticity of the cars and retain the spirit of amateur sport.
Cars taking part include: Aston Martin DBR4, Brabham BT11, Brabham BT21, Brahbam BT4, Cooper Bristol MK II, Cooper Bristol T40, Cooper T43, Cooper T45, Cooper T53, Cooper T66, Cooper T71/77, LDS/Alfa Romeo, Lotus 18, Lotus 18/21, Lotus 27 Junior, Maserati 250F CM5, Maserati 250F CM7, Maserati 4CM, Talbot T25, Walker Special,...
Masters Sports-Prototypes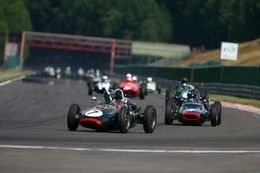 Group C is widely regarded as a golden era for sports car racing. Launched in 1982 by the FIA, the first race at Monza was won by Jean Rondeau's eponymous creation but it wasn't long before Porsche arrived on the scene with its all-conquering 956.
As Group C sports car racing soared in popularity, more constructors and manufacturers became involved with Porsche's 962 squaring up against Jaguar, Mercedes and Nissan. Add in Aston Martin, Mazda, Ford and Lancia and it was plain that Group C was the place to race for leading automotive brands in the 1980s.
Those halcyon days are back thanks to Masters Historic Racing. A series of sports-prototype races will be run at prestigious venues for owners and preparers of the cars, recreating the magic of the Le Mans 24 Hours or the many 1000 kilometre races that ran worldwide.
Cars taking part include: Mercedes-Benz C11, Nissan RC90, Porsche 962, Spice SE88C, Spice SE90, ...
Masters Gentleman Drivers
To be sure, the GT cars of the sixties were stylish. The Ferraris, Aston-Martins, Jaguars and the likes of AC Cobra all had their character. In this race, they will compete with roadsters built before 1963, such as the Lotus 11 and 17.
Cars taking part include: Abarth Simca 2000GT, Alfa Romeo Giulietta, Austin Healey 3000, Bizzarrini 5300, Chevrolet Corvette, Ferrari 275 GTB, Ford Shelby Mustang, Ginetta G4, Jaguar E-type, Lotus Elan, Lotus Elite, Lotus XI, MG B, Morgan Plus 4, Morgan SLR, Porsche 911, Shelby Cobra Daytona, Sunbeam Le Mans Tiger, Triumph TR4, TVR Grantura Mk III, TVR Griffith,...
Top Hat Masters All Series
Another great classic of the Masters Series, the « Top Hat » features both GT cars and touring cars built before 1975. There will be four distinct classes according to the cars' periods and specifications.
Cars taking part include: Alfa Romeo 2000 GTV, Alfa Romeo GTA, Austin A40, Austin Healey 3000, Austin Healey Sebring, Austin Mini Cooper S, BMW 1800 Ti, BMW 2002, Chevrolet Camaro, Ford Capri, Ford Falcon, Ford Lotus Cortina, Ford Mustang, Ford Zephyr MkII, Galaxie 500, Gilbern GT1800, Hillman Rallye Imp, Jaguar E-Type, Jaguar XK 120, Jaguar XK 150, Lotus Elan S2, Marcos 1800GT, MG B, Morgan Plus 8, Porsche 911 RS, Triumph Dolomite Sprite, Triumph TR3A, TVR Griffith,...
Historic Motor Racing News U2TC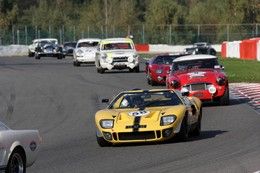 Because it showcases cars that are close to the average man's car, touring car racing has always sparked a special craze with the public. With this series, you will be plunged back into the European Touring Car Championship as it was between 1963 and 1965.
Cars taking part include: Abarth 1000 TC, Abarth 850, Alfa Giulia Ti, Alfa Giulia Ti Super, Alfa GTA 1600, BMW 1800 Ti, BMW 1800 Tisa, BMW 700 S Coupe, Cooper S 1275, Cooper S 970, DKW Junior, Ford Anglia 1200 Super, Glas 1204, Lancia Flavia Coupe, Lancia Flavia Zagato, Lotus Cortina, MG 1100, Panhard 24 CT, Renault R8 Gordini, Saab 96 Sport, Steyr Puch 650 TC, Vauxhall VX4/90, Volvo 122S,...
Pre-'63 GT
It all started when we helped to put together a grid of Pre-'63 GT cars in 2009. The response was so enthusiastic! Amongst the entries were 250 Short wheelbase Ferraris, DB4GT Astons (and even a genuine pre-'63 Project car), AC Aces, MGA Twincams, an incredibly historic Sebring TR3, SZ Alfas, Lotus Elites, E-types, Morgans – all to genuine pre-1963 specification. This grid merited its feature race status at this major meeting.
The object of this series is to promote cars that have become rarer and rarer in historic racing because of the competition they encounter from modern replicas and highly developed racing cars. This series is for genuine, original and historic cars.
Cars taking part include: Alfa Romeo SZ, AC Ace, Aston Martin DB4 GT, Ferrari 250 Short Wheelbase, Jagua E-Type, MGA Twincam, TR3,…
The RAC Woodcote Trophy
Notably supported by the British Royal Automobile Club, this series features post-war racing cars up until 1955. Strict motoring tests and cars in epoch colours to delight the nostalgic.
Cars taking part include: AC Ace Bristol, Allard J2X Le Mans, Aston Martin DB2, Aston Martin DB2/4, Aston Martin DB3, Austin Healey 100M, Austin Healey 100S, Cooper Sports, Ferrari 750 Monza, Frazer Nash Le Mans, Healey Silverstone, HWM Jaguar, Jaguar C-Type, Jaguar D-Type, Jaguar Sports, Jaguar XK140, Kurtis 500s, Lotus X, Maserati 250SI, MGA Twin Cam, Osca FS372, Osca MI4 2AD, Triumph TR2,...
Stirling Moss Trophy
Supported by Sir Stirling, this race features the most beautiful sports cars built before 1960. The Stirling Moss Trophy insists on respecting the spirit of the times and the cars featuring in this series do so upon invitation only.
Cars taking part include: Bocar XT5, Cooper Bobtail, Cooper Monaco, Cooper T39 Bobtail, Jaguar D-Type, Jaguar XK 120, Kellison J4 Roadster, Kurtis 500S, Lister Chevrolet, Lister Jaguar Costin, Lister Jaguar Knobbly, Lister Knobbly, Lola Mk I, Lotus 15, Lotus XI Le Mans, Lotus XV, Sadler Mk III,...
British Sports - GT & Saloon Challenge
This race accepts a great variety of cars, built between the forties and the seventies. The owners of Sports cars, GT cars or touring cars meet at Club events which the British are particularly fond of.
Cars taking part include: Alfa Romeo Giulietta, Aston Martin V8, Austin A35, Austin Healey Sprite, BMW 1602, BMW 2002, Chevrolet Camaro, Chevrolet Corvette, Datsun 240Z, Ford Capri, Ford Escort 1600RS, Ford Escort MkI, Ford GT40, Ford Lotus Cortina, Ford Mustang, Hillman Rally Imp, Jaguar D Type Replic, Jaguar E Type, Jaguar XJS, Lotus Cortina, Lotus Elan, MG BGT V8, MG Roadster V8, MGA Twin Cam, Morgan +8, Porsche 911 RSR, Ram Cobra, Sunbeam Tiger, Triumph TR3, Triumph TR6...
---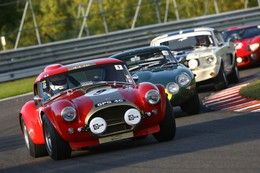 Don't forget that
PHers can take advantage of a special ticket offer
when buying tickets at the circuit, thanks to the event organisers all PH members will receive:
A 10-euro discount on the entry fee (15 euros instead of 25 euros per person)
A free t-shirt "PistonHeads - Spa Six Hours"
A dedicated hospitality area where you can sit and relax for a while when at the circuit
Tickets are only available on the gate, so we will shortly be publishing a PH logo for you to present at the gate to claim your discount, and later on to gain access to the hospitality and to collect your free shirt.
Previous article is here
We look forward to seeing you there.