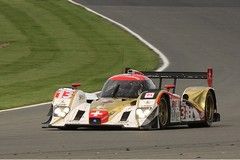 The 2010 Lola-Rebellion
Toyota has confirmed that it will be making a return to Le Mans next year as an official engine supplier to the Swiss LMP1 team Rebellion racing.
The project will be the first time that Toyota has dipped its official toe back in the waters of motorsport since it withdrew from F1 at the end of 2009.
The first Toyota-powered prototype of the Lola coupe had a shakedown at Snetterton in October and has since been run in the sunnier climes of Spain and Portugal.
"This agreement is the cornerstone of Rebellion's challenge for the forthcoming season," said Rebellion team principal Alexandre Pesci. "Toyota is an impressive and remarkable industrial giant, we are proud to have been selected by Toyota Motorsport as their partner in this project."
Toyota Motorsport president Yoshiaki Kinoshita added: "Toyota Motorsport has recent experience of engine supply partnerships from our Formula 1 days, so we are drawing on that to deliver a reliable and competitive engine."
It is very much a tentative step at the moment, but Toyota's partnership with Rebellion could well end up being the first move in a full-blown return to sports car racing.
Toyota certainly has unfinished business at Le Mans - its last attempt ended with a crushingly close-but-no-cigar 2nd place with the GT-One back in 1999.