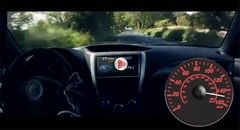 Update:
Subaru America has released a new video of Mark Higgins' recent attempt on the TT lap record (for production cars). He's obviously watched the footage himself a few times now, and there's some fascinating over-dubbed detail on what happened in those crucial milliseconds. Check it out...
(Original PH article below - 10th June)
| | |
| --- | --- |
| Sometimes 150mph feels quick... | ...wouldn't you agree, Chris? |
We hope somebody passed Road & Track photographer Chris Cantle a fresh pair of underduds following this epic 'near-death' experience on the TT course.
Chris was riding shotgun with Mark Higgins while recording a hot lap during the TT record attempt we posted on the homepage earlier, when former British rally champ Higgins shared "the biggest moment of his life" at something over 150mph in sixth gear - on what is usually a quiet suburban Manx street.
"To be honest, I don't know how we held that", quips Mark, thus committing to the history books a bit of understated repartee that will surely merit a mention in the 2011 'stiff upper lip' awards.