Tom Sykes might have been lining up on pole, but with the French track soaking wet and hometown hero Sylvain Guintoli on form, it was going to be a hard race for the Brit WSB leader. It looked to be a case of protecting his 31-point lead rather than increasing it...
Soaking circuit meant committed riding
Lights out and Jonathan Rea found the wet a great leveler as he headed the field on his Fireblade, but behind Guintoli was looking determined and Sykes was having a bit of a torrid time with Chaz Davies and Guintoli's teammate Melandri challenging him. Although it didn't take long for Davies to hit the floor...
At the front, Guintoli caught up with Rea and took the lead, sending the home crowd into a state of ecstasy and making a break from the chasing pack. Until his teammate got involved...
It's not often that WSB sees team orders, but having taken the lead, Melandri was commanded by his team to hand the win to Guintoli. To be fair Baz also backed off to give Sykes fourth.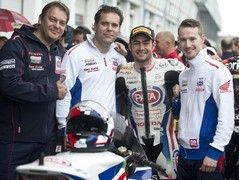 First podium for Haslam in two years; result!
Race two saw more rain and more team orders. Once again riders were falling and Melandri took the lead; but when everyone expected him to pull over, he didn't! Can you imagine the outcry in the Aprilia camp as Melandri took the chequered flag with Guintoli in second?
What happens if Sylvain goes on to lose the title by those five points? Fair play to Melandri, at least it shows he has some balls! And probably no ride for next year with Aprilia! PH2 has to also give a big shout out to Leon Haslam, who took his first podium in two years with his well-deserved third spot.
With Sykes' lead chopped to just 12 points, one thing is for certain, it's going to be a cracking last round in Qatar between Tom Sykes and Sylvain Guintoli. Team orders or not...

---
Race 1:
1. Guintoli (Aprilia Racing Team)
2. Melandri (Aprilia Racing Team)
3. Rea (Pata Honda World Superbike Team)
Race 2:
1. Melandri (Aprilia Racing Team)
2. Guintoli (Aprilia Racing Team)
3. Haslam (Pata Honda World Superbike Team)
Championship places:
1: Sykes - 378
2: Guintoli - 366
3: Melandri - 312
Eugene Laverty (Suzuki) - 19, DNF
Tom Sykes (Kawasaki) - 4,4
Leon Haslam (Honda) - 6, 3
Jonathan Rea (Honda) - 3, DNF
Chaz Davies (Ducati) - DNF, 9
Alex Lowes (Suzuki) - DNF, DNF