So, all-new Audi RS6, your great chance to prove our doubts in fast Audis wrong and demonstrate fancy new technology like 'inside out' turbo installations and the rest really can deliver more than just impressive stats.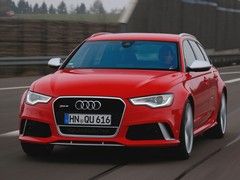 RS6 longer & wider but lighter than rivals
You can swot up on some of the technology in the new car in our
but the big news for this third-gen uber Audi is, of course, downsizing. Now, all things are relative and when your starting point is a 580hp, 5.0-litre twin-turbo V10 that does give you more headroom than most to both maintain the all essential power advantage while paying token heed to fuel efficiency and CO2.
Until the RS7 Sportback arrives later this year the RS6 will be the most expensive Audi RS that money can buy; £76,985, to be precise. Rather a lot of dough for a big estate car, even one of the RS6's supercar-humbling abilities.
Loudmouth
This new RS6 is the fastest yet and cracks the four-seconds to 62mph mark with a faintly astonishing 3.9 seconds. Though the refreshed E63 AMG S - in some markets now four-wheel drive too of course - can do it in 3.6. And, yes, that's a bit daft.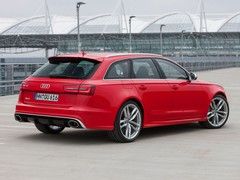 V8 soundtrack is monumental
Setting that aside for now the RS6's increase in pace over the previous V10 version comes despite the drop in size and cylinders, the new car now coming with a twin-turbocharged 4.0-litre V8 with 560hp and 516lb ft. Top speed is governed at 155mph, though like the M5 and E63 AMG, you can spec your RS6 with optional packs that raise top speed to 174mph or 189mph. If you really, really need those pub bragging rights, that is.
Shouting about your new RS6 is something you probably won't need to do, mind, as it's quite happy to do so itself. A sports exhaust option is available, but the standard system is plenty vociferous enough; hit the power and the flaps open, unleashing a gnarly V8 warble, overlaid with the turbos' jet-like whoosh. Drop the eight-speed ZF gearbox down a cog and it woofles and farts happily to itself, too.
Gripping yarn
Changing down is just fine, as the ZF 'box works well in the RS6. Shifts are swift but at the same time doesn't seem as keen to change down as it does in some other applications, allowing you to surf on the whopping torque of the V8. There's perhaps a whisker of turbo lag, but you don't really suffer, such is the brawn of the engine beneath. And when the boost kicks in ... devastating. Keep your foot planted, pull the paddle - gratifyingly, it won't change up for you in manual mode - and the surge just continues into silly numbers.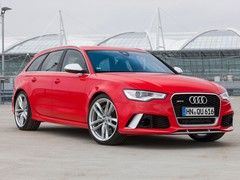 Rear bias makes RS6 feel lively
You'd expect monumental grip in a fast Audi and, duly, the RS6 delivers. The good news is that the RS6 is fun with it, too. There's a 60 per cent rear bias, which can automatically rise to 85 per cent if needs be. The result of this, and the lighter engine, is that the new car loses the nose-heavy tendency of the old car. In fact, in most circumstances, the RS6 moves like a rear-driver under power, giving it a feeling of liveliness that belies its size.
The proviso to this is that the launch cars were all equipped with the optional steel-sprung Sport Suspension Plus, based on the familiar diagonally linked DRC system. As standard, the RS6 gets adaptive air suspension, and it's the first-ever RS model to be so equipped. Unfortunately, this lack of any air-sprung cars at the launch means we can't tell you whether it's actually any good. What we can tell you is that the optional setup is a touch more supple than the RS4's, making it comfortable enough to live with day-to-day in comfort mode, though the dynamic mode may prove a little on the firm side for UK roads.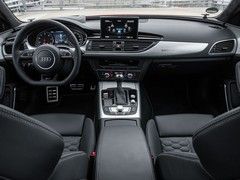 Steering could be better. Interior's nice, though.
While the ride quality is acceptable, the RS6's steering is a problem. It's fast, but it doesn't give much feedback, even by the standards of other electric steering systems. Add to that a dollop too much assistance, and the result is a nervous yet remote sensation that's too artificial. You can drive around it - just - but you shouldn't really have to.
So, costs a bomb, goes hard, grips like hell, makes a good noise, iffy steering. An RS Audi then and third time round it would appear to be business as usual. We'll need to drive an air-sprung car on UK roads to make a full appraisal and, though UK cars will still be rear-drive, the comparison with the 4Matic versions of the facelifted E63 will be fascinating.
---
AUDI RS6 AVANT
Engine: 3,993cc V8 twin-turbo
Transmission: 8-speed automatic, four-wheel-drive
Power (hp): 560 @ 5,700-6,700rpm
Torque (lb ft): 516 @ 1,750-5,500rpm
0-62mph: 3.9 sec
Top speed: 155mph (174/189mph upgrades available)
Weight: 1,935kg
MPG: 28.8 (NEDC combined)
CO2: 229g/km
Price: £76,985 (base price)