We've written enough about BBR's tuning upgrades for MX-5s for you to understand we're big fans of the firm's modular approach to spicing up the outgoing NC version, ahead of turning its attention to the
. It'll be a while before those are available but there are, of course, plenty of NCs in the market. Though billed as a "last blast" farewell package BBR's new Super 225 throttle body upgrade therefore has ongoing relevance.
Obviously you could add the kit to a freshly bought run-out NC but, as we've said several times before, with the necessary fiscal denial you could easily buy a £5K used NC and spend the same again with BBR turning it into something seriously potent. The GT270 turbo kit is the one for the real speed junkies but the various stages of normally aspirated tuning, last driven here in Super 200 form, are perhaps more in keeping with the true MX-5 character.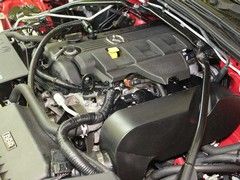 Optional BBR airbox quietens 'raucous' foam set-up
Clue in the name but the Super 225 moves the game on from the
and delivers a pretty heady 225hp at 7,900rpm with 175lb ft of torque at 4,500rpm. Impressive gains from the stock 160hp and 139lb ft but, as we all know, harder to win via normally aspirated tuning when compared with what you can achieve by bolting on a turbo or supercharger. Jota has also offered a throttle-bodied MX-5 conversion, its 205hp GT costing just shy of £30K as a complete package but down on power compared with BBR's kit.
BBR has worked hard to keep costs within reason too, the full package available fitted on a 'drive in, drive out' basis for £4,295. If you've already got your MX-5 to Super 200 tune you can upgrade for £2,495 fitted or, if you're more hands-on with your tuning, BBR will sell you the throttle-body kit for £1,730. All prices are plus VAT.
"Target power figures aside, our primary objective with the Super 225 program was to retain as much of the original Mazda electronics system as possible, to cap costs at a realistic level for our enthusiast market and avoid the need for a motorsport style engine management system," says BBR's Neil McKay in the press release announcing the kit. To that end the stock ECU is recalibrated but retained, meaning traction control and main dealer serviceability are maintained.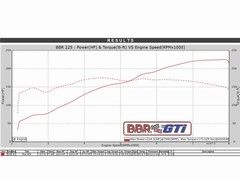 Graphs to ponder for the rolling road fans
No denying, it's a wedge of money to throw at an MX-5. But you do get a fair bit of kit, the package comprising a stainless four-into-one exhaust manifold, new cams, branded tailpipes, 'direct to head' AT Power throttle bodies, unique AT Power/BBR curved inlets, machined aluminium inlet pipes, fittings to integrate the stock Mazda MAP sensor installation, Ramair foam air filter and a BBR engine breather system. If you want something quieter than the "raucous" (BBR's words) standard foam filters or find yourself troubling track day noise limits there's an optional BBR airbox kit for an additional £200. Brake, suspension, styling and wheel packages are also available if you're still in the mood to spend.
Like the sound of it? We'll be driving the Super 225 next week and will report back. And we've asked them to leave the noisy air filters in place...