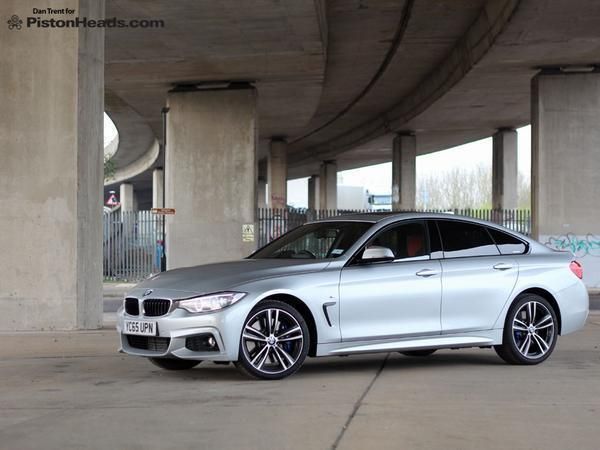 Explaining what the 4 Series Gran Coupe is to a 'civilian' is like attempting to rationalise Bonfire Night to someone not born to a tradition of letting off fireworks and burning effigies to celebrate foiling a centuries old treasonous plot. About half way through you realise 'this sounds ridiculous...' but feel compelled to see it through, the resulting blank face and awkward pause leaving both parties feeling a little confused.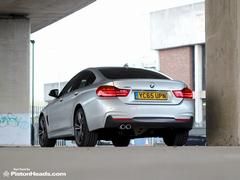 Anyway. Here we are. A four-door saloon/coupe derived from a two-door coupe itself based on ... a four-door saloon. Motivation to book the 430d came in after a meeting with BMW's PR man, to which he arrived in a 435d xDrive Gran Coupe and did a pretty convincing sales job. Looking at the stats later this didn't seem entirely lacking in substance. The flagship diesel's 313hp/465lb ft compares well with the 440i's 326hp/332lb ft, this sledgehammer to nut drivetrain dealing out its 4.8-second 0-62 and monstrous mid-range with silky-smooth six-cylinder refinement. Indeed, by the numbers it's the fastest 4er Gran Coupe you can buy. Pity they don't have one on the press fleet then.
430d as runner-up prize it is then, 258hp and 413lb ft the consolation. M Sport spec gains us sports suspension, M bodykit, M branded alloys and a few dedicated trim pieces, further tarted up with an optional £1,650 M Sport Sport Plus package adding M Sport brakes and 19-inch wheels. Over Luxury this spec fits with the Gran Coupe's sportier profile, our car also coming with the smooth-talking eight-speed auto as standard. File under 'nice car' rather than something inspirational to dust off for a Sunday morning blast along the lanes. Nice enough to give you just a tingle of excitement on the daily commute though?
Hatching a plot
Actually yes. It's a bit of a surprise to press the boot release and realise it's basically a 4 Series hatchback in all but name, this possibly the most practical 3 or 4 Series body shape this side of those lumpy GT crossover things. The look isn't quite as cohesive or attractively proportioned as its 6 Series Gran Coupe big brother but it's a better looking car in the metal than in pictures. And suckers you by feeling convincingly a little sportier and more special than any 3 Series equivalent. You pay accordingly, a 430d xDrive M Sport's base price nearly £4,000 more than the equivalent 330d xDrive saloon.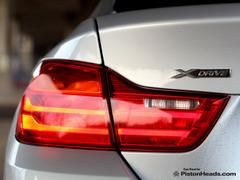 The 'what if' factor of not getting into a 435d does slightly temper the otherwise appealing qualities of the big six up front. Refinement is excellent though and there are no 'for a diesel' excuses to be made for its smoothness or relative willingness to rev. If there's a disappointment it's in the linearity of the power delivery and absence of that fat wedge of torque that is so useful in the cut and thrust of motorway driving. Indeed, you'll find you often need to drop a gear or two to generate any meaningful progress once that elephant racing artic finally pulls in and releases you from the 50mph crawl.
As experienced in our 435i long-termer, BMW's M Sport damping leaves a little to be desired, the £515 Adaptive M Sport suspension on our test car retaining a brittle edge in all of its modes. That and a bit of tyre roar are the only real downers on the otherwise superb long-distance cruising ability. For all the fuss made about Audi interiors BMW's current ones - suitably gilded from the options list - maintain a quality, clarity and ease of use that comfortably sits at the top of the class. A lot less chintzy than the Mercedes equivalent too.
All in all this adds up to a car of quiet competence and the ability to sooth and look after you on the long haul home. Beyond its motorway comfort zone it has just enough additional poise and pizzazz to remind you of BMW's sporting genes too. It's an undemanding car but has an understated ability to make progress that leaves you refreshed rather than ragged. The xDrive four-wheel drive adds an unobtrusive level of all-weather security too, with a default neutral stance that has just enough rear-driven balance to stay true to the brand values. Or you can save £1,515 and stick with rear-wheel drive.
As tested a pleasant car rather than an astonishing one then. Still want a go with that 435d though...
---
BMW 430d XDRIVE M-SPORT GRAN COUPE
Engine: 2,993cc 6-cyl turbodiesel
Transmission: 8-speed auto, four-wheel drive
Power (hp): 258@4,000rpm
Torque (lb ft): 413@1,500-3,000rpm
0-62mph: 5.2sec
Top speed: 155mph (limited)
Weight: 1,690kg
MPG: 52.3mpg (NEDC combined)
CO2: 142g/km
Price: £42,460 (£48,560 as tested, comprising Interior Comfort Package of sun protection glass, extended storage and sliding arm rest £460; M Sport Plus Package of M Sport brakes, 19-inch wheels and Harman/Kardon sound system £1,650; heated steering wheel £155; Adaptive M Sport Suspension £515; electric sunroof £895; folding/dimming mirrors £300; split/fold rear seats £170; Adaptive Headlights £860; Head-up Display £825; internet £95; online entertainment £325; Enhanced Bluetooth with voice control £350)
Photos: Dan Trent