's defining feature is its 'forged, machine-polished, weight- and rigidity optimised' 20-inch wheels, complete with 10mm extra width in the tyres. Reduced unsprung weight (you'd hope), more rubber on the road and some ... eye-catching visual bling, inspired by but thankfully not entirely copied from the
, they certainly mark the Competition Package out from normal M4s.
Well, they would if they'd been fitted to our test car.  
So that's one feature we can't actually comment on. The plain silver five-spokes that make this white M4 look more like an M-Sported 420d are here because this car is on winter tyres for the drive back from the Geneva show. Probably not a bad idea given the conditions but rather taking some wind out of the sails, both visually and in terms of assessing the apparently sharpened dynamic edge. 
Because the Competition Package isn't just about big wheels and some black 'Shadow Line' trim. There's also a 19hp power increase from 431hp to a round 450hp, a 'modified bedplate' for the crankcase to reinforce the engine for the additional power, revised settings for springs, dampers and anti-roll bars and new settings for the DSC and Active M Differential 'to match the upgraded dynamics'.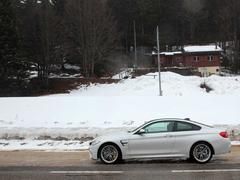 Winter tyres take some aggression out...
As a result it'll hit 62mph from rest a tenth faster in four seconds dead if you've got the optional M Double Clutch automated gearbox, the manual recording a similar advantage over the standard car. All in all a pretty convincing range of upgrades for £3,000 on top of the price of your M3 or M4, or just £2,200 for the
As sensible as winter tyres might be for the drive back from a wintry Geneva it does rather make comparisons with the regular M4 - a car we know very well here on PH - somewhat difficult. Likewise BMW's reluctance to provide any hard information as to what it's actually done to the suspension settings, which is a pity because this was one of the major areas in need of improvement. 
You would assume, given the whole 'Competition Package' branding and additional power it's gone harder, stiffer and faster. Which initially sounds a little worrying, given wayward damping on bumpy roads and a fierce, spiky power delivery are some of the major criticisms levelled at the standard car. 
So with the pen still hovering over that box on the spec, should you really tick it? 
In the driving rain and on busy Swiss motorways there's an acclimatisation period dialling back into the M4's various quirks, settings and configurations. Eight hours for a nine-hour journey leaves little time for pleasantries though.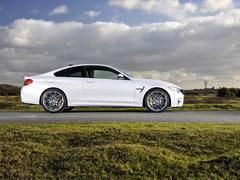 ... so here it is fully Packed out
Immediate observations are that the steering feels a little different. One of the issues with the standard M3 and M4 is a confidence robbing mush in the first few degrees of movement off-centre and little sense of how much you have to lean against on the front axle. Plenty, given previous experience. Just no feel for it. The mechanically variable rack hasn't been changed but there's definitely been some fiddling with the calibration and more weight in the initial turn of the wheel, which is welcome. No more feel and the same gearing but just a little more to work with. This is promising.
And then you rumble across some poor quality tarmac. Oof! There's a secondary brittleness there that seems harsher than the standard car, that suspicion the 'recalibration' of springs and dampers does indeed mean stiffening things up. Oh good. 
As the speeds increase you get a suggestion a tad more NVH might actually be worth it. Because a lack of damping in relation to the springs in Comfort mode on the standard car could actually be worrying at times. Get caught in the wrong mode on the wrong bump and the lack of body control - especially in rebound - could make things rather alarming, especially in terms of traction given the sudden variance in contact pressure. 
With a little more damping the body control seems improved, even in Comfort, taming that bucking bronco feeling that could get so scary on damp roads before. In a car this potent a small trade-off in comfort seems worth making.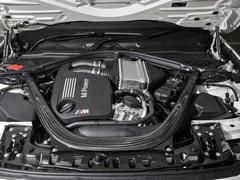 Twin-turbo straight six tickled to 450hp
It would be nice to see how this combines with the extra rubber on the road and the tweaks to the DSC system and diff too. But conditions don't really allow, the comedy value of making winter tyres squeal on hairpin bends covered in slush and running water making up for it a little. On this showing the MDM mode seems to have a slightly shorter leash than before, pulling you back into line earlier but still smooth and tactful in its interventions and letting you play with the car without your palms getting too sweaty.
A faster M4 that also feels a little more confidence inspiring to drive? This could be a proper win-win. 
The noise from the now black-tipped exhaust also claims to have been increased, with modifications to the flap-controlled bypass and changes to the rear silencer too. BMW says it gives "a more powerful, stronger character engine sound" and, certainly, it'd seem there's more of this than the stuff over the speakers. Which, again, has to be a good thing. 
Oh, and a diversion via Germany reveals the 155mph limiter has a fairly relaxed view of matters. Probably not entirely sensible on winter tyres rated to 149mph but we do these things so you don't have to.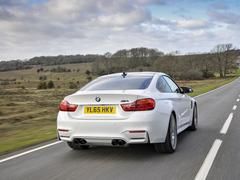 We'll get it in the UK properly soon!
Bringing to light another characteristic that may be Competition Package related or possibly down to the weather. But on first application the M Carbon ceramic brakes feel scarily wooden, almost unservoed in fact. Whether BMW has tried to tame the slightly edginess to the initial bite our long termer suffered from or it was simply down to prolonged running in cold temperatures it pays to skim the discs periodically. Especially to avoid squeaky cheeks if you need to rapidly reduce Autobahn speeds to more realistic ones. Not something you'll likely encounter much at home but worth remembering.
Until we drive the car on its 'proper' wheels and bigger tyres - and on a dry road - there remain some unanswered questions about the Competition Package. But given the apparent improvements in body control, a little extra grunt and the relatively modest additional cost, it would seem to err on the side of no-brainer. Looking a few years down the line to a potential browse of used F80 M3s and F82 M4s in the classifieds it'd certainly be on our spec wish list. And for that reason alone we'd encourage as many buyers as possible to take up the option! 

---
BMW M4 COMPETITION PACKAGE
Engine: 2,979cc 6-cyl twin-turbo
Transmission: 6-speed manual/7-speed dual-clutch auto (M DCT), rear-wheel drive
Power (hp): 450@5,500rpm
Torque (lb ft): 406@1,850-5,500rpm
0-62mph: 4.2 sec/4.0 sec M DCT
Top speed: 155mph (limited, or perhaps not, as it turns out)
Weight: 1,572kg/1,612kg M DCT (EU, with driver)
MPG: 32.1/34.0 M DCT (NEDC combined)
CO2: 204g/km/194g/km M DCT
Price: £60,055/£62,550 M DCT

---