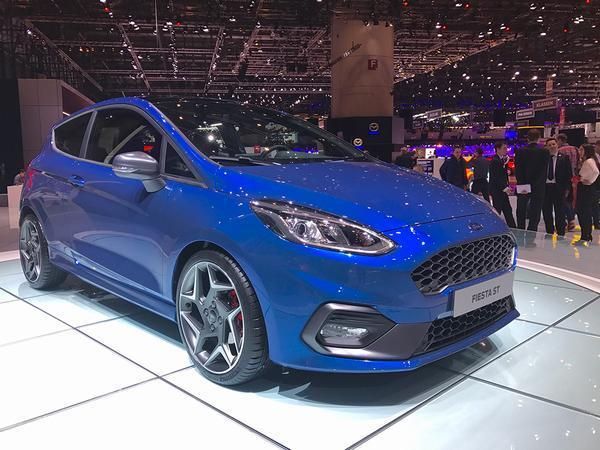 Of the many compliments that can be paid to the current
Fiesta ST
, perhaps the car's most endearing trait is its simplicity. Nothing needs to be configured, adjusted or set to have an absolutely brilliant time. Alright, maybe the traction control if you're feeling especially silly. But against cars like the Clio R.S. (with its menu of engine noises for the speakers), it was the ST's old school approach that won so many over.
Revealed: New Ford Fiesta ST Driven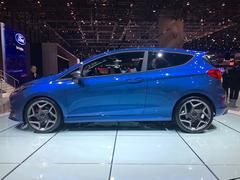 Five doors on offer for more practical types
That's changed for this new car. Quite a bit. The ST now has three drive modes - Normal, Sport and Track - which adjust the usual parameters of steering weight, throttle response and ESC threshold. Here though they also adjust the Electronic Sound Enhancement (ESE) feature, a system in place to "amplify the naturally sporty sound of the new 1.5-litre Ecoboost engine", alongside an active exhaust. Hmm.
That 1.5-litre turbo is an all-aluminium three-cylinder lump, the first time a Ford Performance car has had just three pistons. It's rated at 200hp and 214lb ft (there's no mention of overboost just yet), sufficient for a 6.7-second 0-62mph sprint. More interestingly though, this engine will have cylinder deactivation. Yep, cylinder deactivation on a three-cylinder engine. When full performance isn't needed, fuel delivery and valve operation is closed and it runs on two cylinders. The process takes just 14 milliseconds to both close off a cylinder and bring the engine back to three, contributing to projected CO2 emissions of 114g/km.
Chassis-wise it could be argued very little needed to change for the ST. Despite that, Ford has tweaked the Torque Vectoring Control (the system that brakes an inside wheel for better traction) plus the ESC now has three modes: on, "wide-slip mode with limited intervention" and fully off. Beyond that nothing additional has yet been confirmed.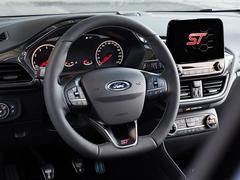 What's a fast car without a flat-bottomed wheel?
Following the strategy brought in for the
standard Fiesta
, this new ST will offer buyers a wider range of personalisation. There are "a range of trim elements" for the gearstick, wheel, door pulls and "decorative dashboard spear"; additional styling packs will also be offered, alongside a new Liquid Blue paint option. And praise be, the ST has new infotainment. SYNC3 has voice control and an eight-inch touchscreen as well as CarPlay and Android Auto compatibility. There's a B&O Play optional stereo too.
It's a pretty comprehensive overhaul for the fastest Fiesta then, without even mentioning the "bold and distinctive exterior styling". Following a Geneva debut the new ST will be launched as a three- and five-door in early 2018. Time to bag a great deal on the outgoing one now!
Watch the launch video here.