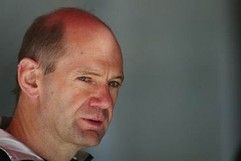 Red Bull F1 technical boss Adrian Newey has been hospitalised after a heavy side-on impact in a Ginetta race on Sunday.
Newey was driving a guest car in a Ginetta G50 race at Snetterton - part of the BTCC support package - when he was tipped into a spin by another car and into the path of Julien Draper's car.
He was removed from the Ginetta on a stretcher, and taken to a local hospital - but only as a precautionary measure.
"Adrian has been taken to a local hospital as a precautionary measure after being clipped by Julien Draper of Barwell Motorsport, which caused Tony Hughes of Speedworks to have a side-on collision with Newey's DynoJet car," said Ginetta chairman Lawrence Tomlinson in a statement. "It is testament to the strength of the G50 roll cage that the car withstood heavy impact and there were no serious injuries."