having arrived recently, the
was in danger of becoming overlooked in the hot hatch ranks. To return it to the forefront of prospective buyers' minds, a mid-life facelift aims to rejuvenate the fastest Focus.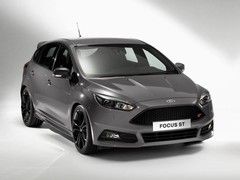 Diesel shown in new 'Stealth' colour
The most significant news is the introduction of a diesel Focus ST, which most definitely isn't an STD. Really. The
rival uses a 185hp 2.0-litre TDCI with 295lb ft from 2,000-2,750rpm. 62mph takes 8.1 seconds and the top speed is 135mph. Just as importantly, fuel consumption is officially rated at 64.2mpg with 114g/km too.
The diesel is the grey car in these pics, identical cosmetically to the petrol car. This even extends to the twin-hexagonal centre tailpipes, which may or may not appeal.
But to the petrol car, the ST that we already know and (mostly) love. Power is unchanged at 250hp from the 2.0-litre Ecoboost but the introduction of stop-start improves mpg to 41.5 and CO2 to 158g/km.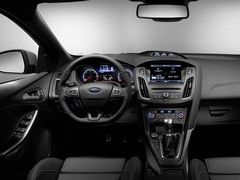 A properly sized central screen; hurrah!
Further modifications underneath should make it an even greater drive than previously. Ford mentions 'an even sharper dynamic performance' in the press material as 'it probably torque-steered a little too much' wasn't deemed appropriate. So there are new front springs, revised torque vectoring control and tweaks to the steering that should improve turn in and front axle control.
Moreover, Ford has added different engine mounts to assist 'front-wheel traction and gear shift quality' (go on, just admit it...). There are new Michelin tyres developed specifically for the ST as well. So it's rather more than a new headlights job, and a facelift that promises even more enjoyment from the Ford.
The ST's interior has been updated too, which is welcome. The fiddly Sync 1 system with its small screen and tiny buttons has been replaced by, erm, Sync 2. But this does at least bring a larger (eight-inch) screen plus a layout that looks far more user friendly.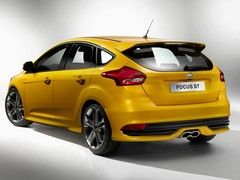 Five-door and estate still being offered
So hopefully more of the same from the Focus ST, with a few remedial measures where they were required. If it remains conspicuously good value (prices TBC), then Ford will have no trouble selling a fair few more. Orders can be placed from the autumn, which will surely be the time to pounce on a cheap pre-facelift car too. And yes, Ford is still making an estate.