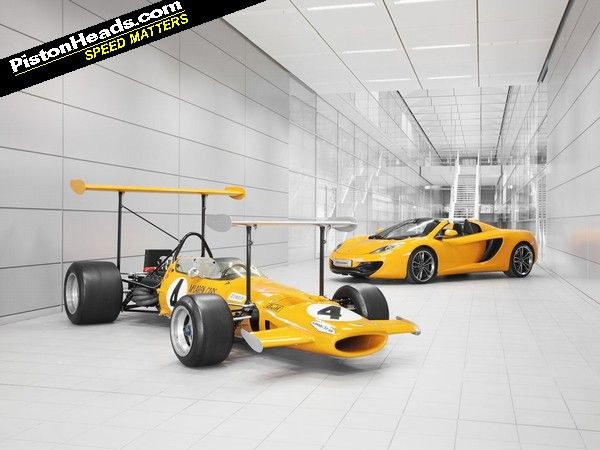 OK, so we admit a McLaren-related pic this week will make the site feel rather full of the Woking concern in the last couple of days, but with the company kicking off its 50
th
Anniversary celebrations and launching its new F1 car at the same time, would you expect otherwise?
And indeed, with images this good, we think we can be forgiven for indulging ourselves further. The recipe here is simple: line up Bruce McLaren's '69 M7C alongside a modern-day 12C Spider finished in the same vivid Papaya Orange. Set to a backdrop of McLaren's utterly clinical, monochrome HQ. Roast for 30 minutes, baste regularly, throw in a few other cooking cliches to taste, and this is the result. Pretty effective, wouldn't you say? And, as Scrof can testify, it looks every bit as good in the flesh as it does in this shot.
Of course, you'll be up on the 12C having read Mr Harris's review – and if you haven't, then it's ten Hail Martins for you and straight to bed without any tea – but the M7C is a rather more special beast. Powered by the iconic Cosworth DFV – or Double Four Valve – V8, it was the first McLaren to feature a fully-enclosed monocoque, rather than the bathtub chassis that had gone before, making it a stiffer proposition than previous M7 variants. In its first outing, Bruce McLaren himself helmed it from a lowly 13th on the grid to a 2nd place finish in the race, and while the remainder of its racing career was less distinguished, it still marked a milestone in the history of the team. And you can bet your bottom dollar you'll be seeing it again as McLaren's 50th Anniversary celebrations continue!
Traditional (4:3)
Computer widescreen (16:10)
TV widescreen (16:9)
Portrait (smartphone, etc)