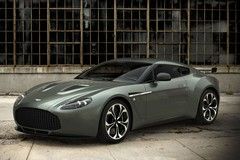 Not Zig...
Aston Martin will show off two V12 Zagatos at the Frankfurt show in a couple of weeks. And they are called Zig and Zag (kudos on the bang up to date pop culture reference there, guys...).
The grey car you see in these, pictures, however, is neither Zig nor Zag - these are the "first conceptual illustrations of the road car variant" (so says Aston).
The first of the two show V12 Zagatos, finished in its distinctive green livery, is the full endurance race car, as campaigned at the Nürburgring.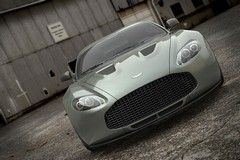 ...or Zag
This, we're told has been nicknamed 'Zig' by the factory team and features a full aerodynamic package including front splitter, dive planes, large rear diffuser and spoiler (
this Aston Martin V12 Zagato
, in other words).
The second of the 510bhp, 420lb ft cars ( yup, 'Zag') was the concept originally shown at the Villa D'Este Concours on Lake Como, and which was subsequently converted into the same full racing specification as the sister car.
Since the 24 hour race, Zag has been returned to its original show specification. Although
Zig and Zag
it's still got a racing interior the outside, says Aston, is more representative of the road car, which is due to go into production priced at £330k plus local taxes from mid-2012.