TVR owner Nikolai Smolenski has confirmed PH's exclusive about the marque's return with US-sourced V8 power, and now we know he's going to use a Corvette lump.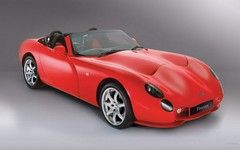 Tuscan's successor to get 'Vette V8
Smolenski confirmed the choice of 'Vette power in a recent interview: ""We looked at every engine available, including making our own, and decided that the Corvette was the most powerful off-the-shelf design going. Fitting it to our chassis allows us to meet all current regulations and is not too big a step," he told
Autocar,
who managed to pin-down the elusive oligarch for a chat
as they followed-up the story.
If 'most powerful' means the LS9 engine from the ZR1, we'll be looking at a supercharged 638hp and 604lb ft, which should make the new TVR roadster hard not to like. Apparently there's no chance of the TVR's in-house six or eight-cylinder motors being revived, as cost and homologation issues are prohibitive.
Unsurprisingly, the new plan centres on a roadster that will be evolved from the steel-chassis with independent suspension chassis set-up of old TVRs like the Tuscan - and latest reports suggests it will be built by German company Gullwing which builds replicas of the classic M-B 300SL and latest versions of the AC Cobra.
AC owner Alan Lubinsky is reportedly in on the deal too, but although Lubinsky is said to have confirmed talks about TVR production are underway, he says nothing has been concluded yet. Interestingly (and we confess to relying on Wikipedia here), AC Cars is said to be already planning its own production venture in the US - so could that mean TVRs will be built there too? Your speculation is as good as ours, but we do know that the US is a key market for the new TVR business plan.
Also in the TVR business plan (stop reading here, Blackpool purists...) is a hybrid version of the new roadster. And everyone wants one of those these days, don't they?
Either way, we're still expecting the new TVR to make its public debut at the Goodwood Moving Motor show in July, although neither Goodwood or TVR have confirmed that officially. But the PH team will be travelling to West Sussex in hope of a sighting, and so can you - don't forget you can buy your tickets online here.