The all-new Audi R8 then. Looks rather like the old one doesn't it! Audi admits as much, describing it as a "subtle but emphatic" evolution from the original.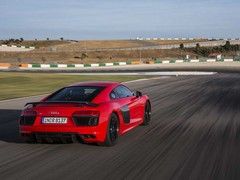 The same but (a little bit) different? Kind of...
If at first glance the looks seem familiar you'd be forgiven for thinking the same examining the spec sheet. Yes, it's still got a normally aspirated 5.2-litre V10 engine and the dual-clutch S Tronic gearbox powering a four-wheel drive chassis. This in a world where everyone else is going downsized and turbocharged. Not so much Vorsprung apparent in the Technik there then.
But under the skin there are quite a lot of changes. As you'll probably already know there isn't a V8 any more, or a manual. Both of those things might be considered a pity. Instead there are two V10 options, a 540hp standard one starting at £119,500 and a £134,500 610hp Plus version. If that latter figure sounds familiar it's the same as the Lamborghini Huracan with which the new R8 shares much of its fundamental architecture and powertrain. This includes the new 'hybrid' carbon enhanced MSS aluminium spaceframe, optional Dynamic Steering system (more on this shortly...) and dual direct and port fuel injection system. Referred to as Iniezione Diretta Stratificata in Lambo land in Audispeak this gets Germanised into the rather less emotive sounding Saugrohreinspritzung/direkteinspritzung but gains cylinder deactivation, shutting down a whole bank of cylinders when not required.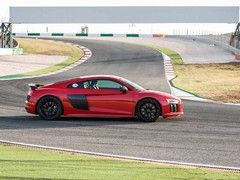 Obviously we went straight for the 610hp Plus...
But since when did fuel saving tech come before performance when reviewing a 610hp supercar? Apologies! To business...
Reverting to type
When the first R8 came out it was something of a shock, looking and feeling like an Audi but most definitely not driving like one. From the rear-biased four-wheel drive chassis to the lush damping and lovely steering feel it was a huge departure from the typically fast but numb uber-Audi RS saloons and Avants. Once the crude R Tronic robotised manual was dropped in favour of the S Tronic dual clutch and the V10 unleashed the true potentialin the car it was clear Audi had nailed the usable supercar thing first time out and given the Porsche 911 its first real scare in decades. This new car is a whole lot more 'Audi' in look and feel and those migrating from other products in the range will be in for less of a culture shock than before. Plus it has stiffer competition than ever in the face of its own Lamborghini blood brother, newly turbocharged Ferraris, ever more potent Porsches and new arrivals in the sector like the 'entry level' McLaren 570S. It needs to be bloody good.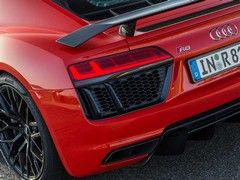 Fixed carbon wing and blades standard on Plus
That engine is a massive and unexpected selling point too. With a 'modern' 4.0-litre inside-out turbo V8 in the product line up it was easy to assume Audi would seize this opportunity to give the R8 a significantly different character from the Huracan. But it hasn't, at least with a superficial glance at the spec sheets. If your relationship with the V10 is less intimate than it is in the Lamborghini - you're more isolated from the sniffs of induction and more mechanical interactions of the gearbox - the normally aspirated character is still at the heart of the R8 experience. And from a muted hum at cruising speeds to a thunderous 8,000rpm-plus howl at maximum attack it remains a truly epic powerplant. And one that will instantly score if you're back to back test-driving the competition, uncertain of where to put your £140K. Sure, you need to wind on more revs than the turbocharged rivals but when the reward is
noise like this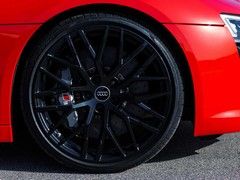 As are ceramics - £7,700 option on standard V10
Evolutionary or not, the R8 still looks superb too. It's a pity the original's more distinctive visual feature - those sideblades - have been toned down but overall it's been subtly sharpened and made more aggressive looking, not least from the rear where the diffuser and visible mechanical components behind mesh venting have more than a hint of race car.
Which is appropriate given the R8 LMS was developed in parallel and shares as much as 50 per cent of its architecture. An N24 win just 10 weeks after unveiling and shortly before the debut of the road car gives this new car some instant credibility too, the fact it beat far more established and developed rivals first time out something of a coup. It's a bit like the annoying class swot acing their exams without breaking a sweat. But respect where it's due...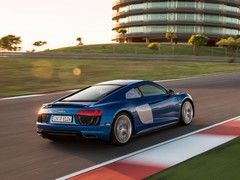 Silver blades and pop-up wing for standard car
Powertrain and chassis changes for this second-generation car include a new electro-hydraulic clutch managing drive torque front to rear by as much as 100 per cent either way. OK, given the mechanical layout and lack of GT-R style twin propshafts you'd need a line lock to achieve this but it sounds good in the press pack. But in collaboration with the optional Dynamic Steering and magnetic dampers, the gearbox, ECU and stability control systems this gives the engineers a huge amount to play with in terms of configurability and, sure enough, there are modes aplenty to fiddle with from the button-laden steering wheel.
A la mode
The familiar Comfort, Auto, Dynamic and Individual settings are available from Audi Drive Select but a new Performance Mode selector (optional on the V10, standard on V10 Plus) on the wheel gives you three further modes over and above these. Self explanatory Snow, Wet and Dry options override the Drive Select, which is handy because the latter partially disables the stability control and thereby gets around the fact Audi - in typical style - disables the ESP off button on its launch cars in an attempt to curb hacks' desire for skidfoolery on the circuit. Like Jurassic Park's dinosaurs nature always finds a way and there's enough latitude in this setting to put a smile on your face/get you into trouble according to talent and enthusiasm.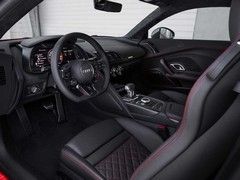 Cabin is beautifully designed and put together
A further advantage of this setting is that it locks out the Dynamic Steering to a fixed rate of 13:1, preventing that gloopy inconsistency you get in the other modes as it wanders between 10.3:1 and 17.5:1 according to what the black boxes think you want. It's still nothing like as feelsome or predictable as the old hydraulic system but it's a lot faster and more direct than the fixed 15.7:1 ratio you get with the passive standard set-up. None of the launch cars had this but, on the face of it, this solution would silence the arguments against having the Dynamic Steering. If you like the sound of it you can bundle into a £3,500 Sports Plus pack with the optional magneto-rheological dampers and sports exhaust.
As stock the V10 Plus comes with a passive Sports suspension set-up, which even on seriously bumpy Portuguese back roads proves itself lithe, compliant and composed without a trace of harshness. The increased stiffness - a 40 per cent improvement is claimed - and 50kg weight saving gained from the carbon/aluminium spaceframe no doubt helps, the reduction in undamped body flex meaning the suspension can really work to its best ability. It's not actually as light as it feels though, the headline sub-1,500kg weight climbing to 1,630kg with fluids and not especially powerfully built 75kg driver.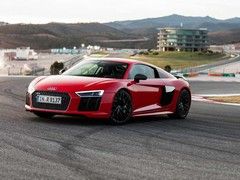 Proportions familiar, detailing much sharper
The magnetic dampers are pretty damned good too and another gadget to play with if you really feel the need. But, frankly, the standard chassis is so good we'd save the money and invest it in some fancy carbon garnish in a rare instance of style being preferable to substance.
One of the more astonishing things about the R8 is its sheer breadth of character. The Huracan has a comparatively easier job, simply needing to be noisy and exciting even when mooching about at urban speeds. But the R8 has to deliver that kind of drama at one extreme while being as refined and user friendly as a TT on the daily commute. So hushed and composed is it in Comfort mode on the motorway there would be no qualms at all about using it this way but when you demand more it delivers in abundance. We've been guilty before of scepticism about this modern age of multitudinous modes and configurability but, in this instance, the technology is truly an enabler.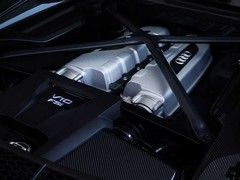 Proper USP compared with turbo rivals
And when you really let rip with the full 610hp the R8 suddenly gets a whole lot more serious. It's still very 'safe' though, to the extent it can feel a little too accomplished and inert at speeds that really should be getting your palms a bit sweaty. With the steering in its dynamic mode the front end feels fast and pointy but there's very little sense of what's going on at tarmac level and it does all feel a bit games console like at times. Grip levels are so high that if you're starting to nudge against the chassis' limits on the road you probably have bigger concerns looming, be they the laws of physics or the local constabulary.
That engine remains your last emotional link with the speed the R8 is all too capable of, the Plus getting seven 'proper' ratios compared with the standard car's six-plus-overdrive set-up and feeling even more urgent than the additional 70hp suggests it should be. Gearchanges don't punch through like a Huracan in Corsa mode but rattling up and down the 'box and savouring the sounds this unleashes is a USP turbocharged rivals simply can't match.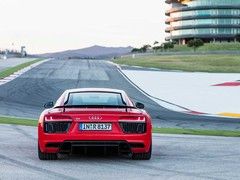 More than a hint of LMS racer in rear view
So to Portimao circuit and a chance to explore what lies beyond the R8's exemplary road pace... Really let off the leash the V10 reveals a hint of the savage side seen in the Huracan, launching out of the pit lane in a blaze of noise and rapid-fire upshifts. Portimao's first turn is a fast and committed blind right and if the steering doesn't give you a whole lot of weight or information the R8 immediately feels more positive at the front end than its Lamborghini brother, eagerly pushing through initial understeer and into a subtle rotation under power.
Front-end push is more obvious on the tighter right that follows and the blind crest after that unweights the tyres just when you want maximum turning force. Hold your nerve and the R8 hauls itself straight and shows brilliant stability in the brutal downhill stop from 120mph and into a tight hairpin left. A lift tucks the nose into the apex and from there if you've timed it right and managed to keep it in the sweet spot of the torque delivery it erupts out of the turn with just a hint of oversteer as the power shuffles to the rear.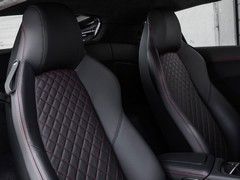 Power seats on standard, fixed-back for Plus
Barely a few corners in and your faith in the R8's predictability and balance means you're happy keeping it pinned through the blind fast left and again into the next blind crest, taken with just a hint of corrective lock. This is clever stuff. Confidence inspiring and fun without being at all dumbed down the R8 feels thrillingly fast yet satisfying for drivers of all experience levels. It's a little on the conservative side of a 911 Turbo and with experience of the 12C and 650S you'd expect the new McLaren 570S to be a bit pointier and hardcore in extremis. But it's considerably more adjustable, lively and enjoyable than the Huracan on the track, making you wonder why Lamborghini played it so safe.
By the last corner - a long, fast right-hander - the R8 is so biddable a nip, tuck and bootful of throttle to provoke a lovely four-wheel drift seems an entirely natural thing to be doing.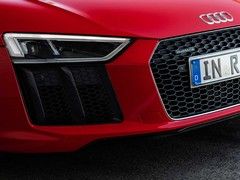 Standard LED lights upgradeable to laser versions
That the R8 can do this while boasting all the Audi stuff you'd expect of a lovely interior, mature styling that won't frighten the neighbours and inherent sense of quality sets a very high bar. In the final few per cent of the performance envelope a 911 Turbo would probably remain the benchmark in this particular sphere but the R8 at least equals it in all-weather usability while boasting a useful character feature in that fabulous engine. That might well tip the balance for many, the fact the premium for the Plus is a relatively modest £15,000 making that seemingly the obvious pick of the range. It's not the hardcore choice. But it is a pretty formidable all-round package.
---
AUDI R8 5.2 V10
Engine: 5,201cc V10
Transmission: 7-speed dual clutch, four-wheel drive
Power (hp): 540@7,800rpm
Torque (lb ft): 398@6,500rpm
0-62mph: 3.5sec
Top speed: 199mph
Weight: 1,670kg (EU, including 75kg driver)
MPG: 24.8mpg
CO2: 272g/km
Price: £118,500

AUDI R8 5.2 V10 PLUS
Engine: 5,201cc V10
Transmission: 7-speed dual clutch, four-wheel drive
Power (hp): 610@8,250rpm
Torque (lb ft): 413@6,500rpm*
0-62mph: 3.2sec
Top speed: 205mph
Weight: 1,630kg (EU, including 75kg driver)
MPG: 23mpg
CO2: 287g/km*
Price: £134,500