Fast Fords have been part of this country's motoring DNA for half a century now. So should we feel proud that the new Focus ST is now considered Ford's first global performance car? Or worried that in trying to be all things to all men it's a designed-by-committee dilution of all we hold dear.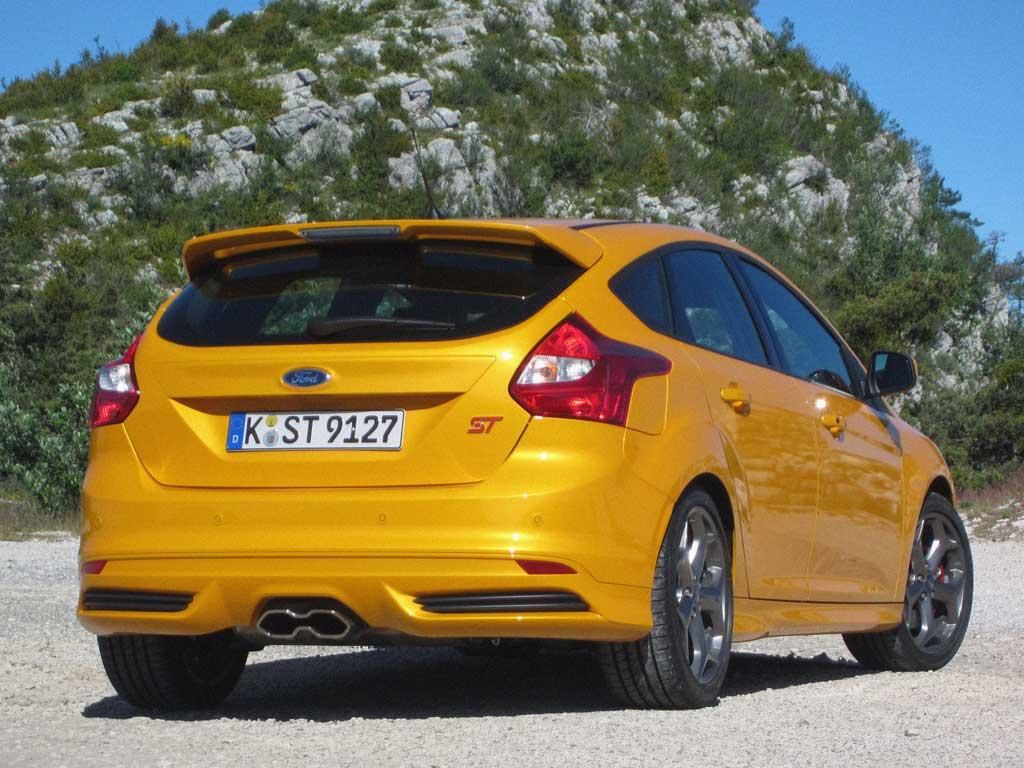 Shy and retiring option not pictured...
In some respects it's business as usual, new Tangerine Scream paintwork picking up where the old car's Electric Orange left off.
And though, with a straight face, we're told the exhaust is inspired by Imperial Star Destroyer thrusters it looks more like some Essex lads were sent off to Sant'Agata in a Transit to pick up some Aventador off-cuts from out the back of the Lamborghini factory. It is, by some margin, about the most outrageous thing you've ever seen poking out from the bumper of a mainstream car.
A signature lairy paintscheme isn't the only thing carried over from the previous, big-selling ST either. Despite losing a cylinder and half a litre much effort has gone into making sure that signature ST sound - a major character feature in the five-cylinder car - survives.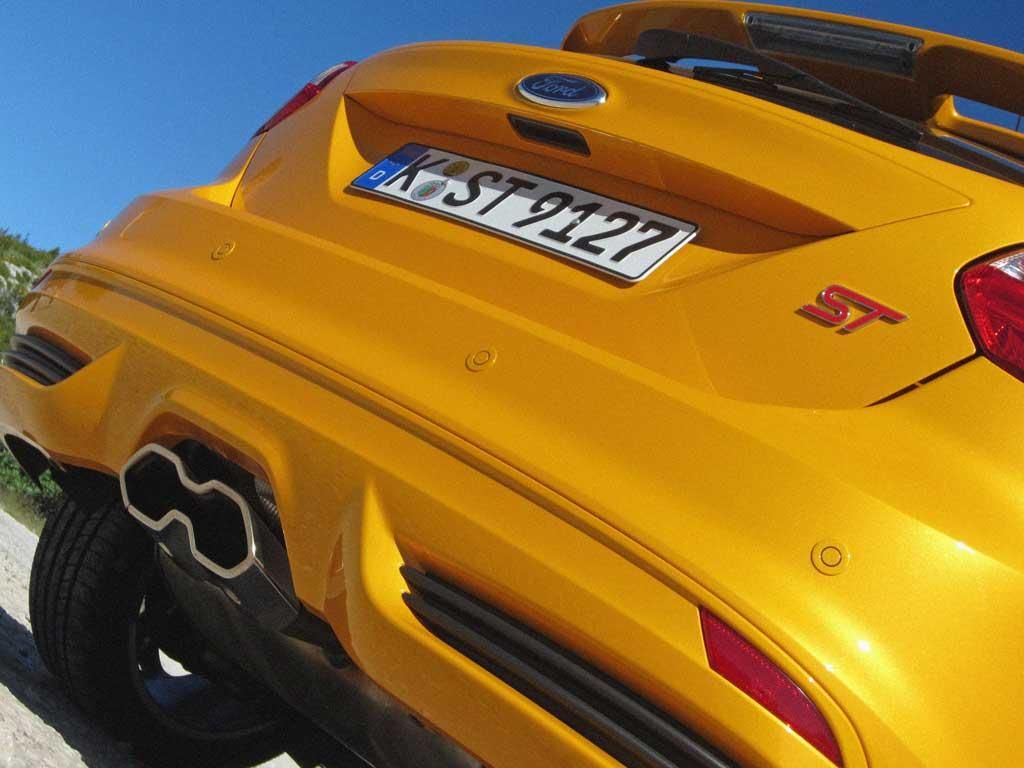 The Aventador wants its exhaust back now
As is the way these days it involves ducting noise from the inlet manifold through a 'sound symposer' and into the cabin. It has to be said, Ford's effort is more successful than most -
from it - and from the first few yards the hollow, induction-led bark is your first clue at the Focus's potential.
Without this artificially enhanced soundtrack project chief Matthias Tonn assures us the new Ecoboost engine is almost silent and, fake or not, it certainly makes the Focus sound 250hp's worth. Typically new-school, the Ecoboost engine is all forced induction from sub-2,000rpm, punchy through the mid-range and then peters out at a disappointingly low 6,500rpm and into a soft, cushy rev limiter that the sound symposer tricks you into thinking should be at least another 1,000rpm away. Which can be a problem if it happens mid-overtake.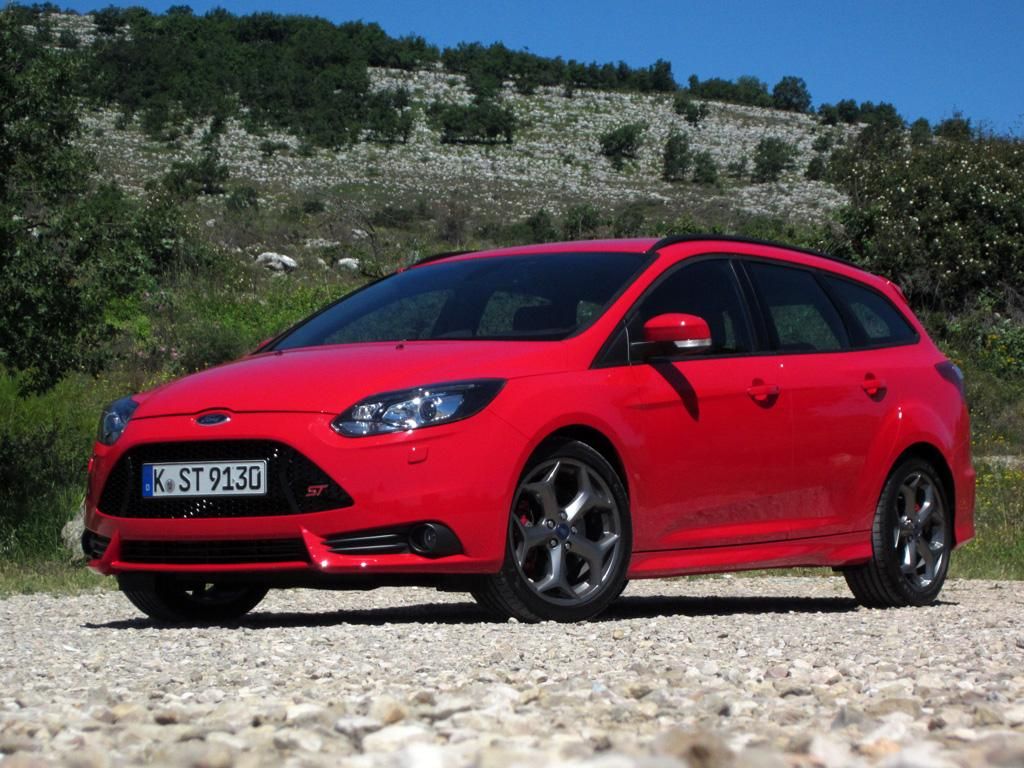 Estate option for the more practically minded
It feels strong before that point though, the fact even the sub-RS model now gets 250hp a sign of how far things have come. Does it leave any headroom for an RS? Officially not.
That'll likely be a yes then.
Which would also explain why Ford is relaxed about pitching the ST as a Megane Renaultsport or Astra VXR chaser though, to be fair, the lack of a three-door Focus would appear to limit that potential. Whatever the reality, the ST remains one notch below hardcore and instead carves itself a niche as the usable performance car of choice. Hence the return of the ST estate, a sales failure first time it was tried but, it's hoped, more of a stand-out model this time round.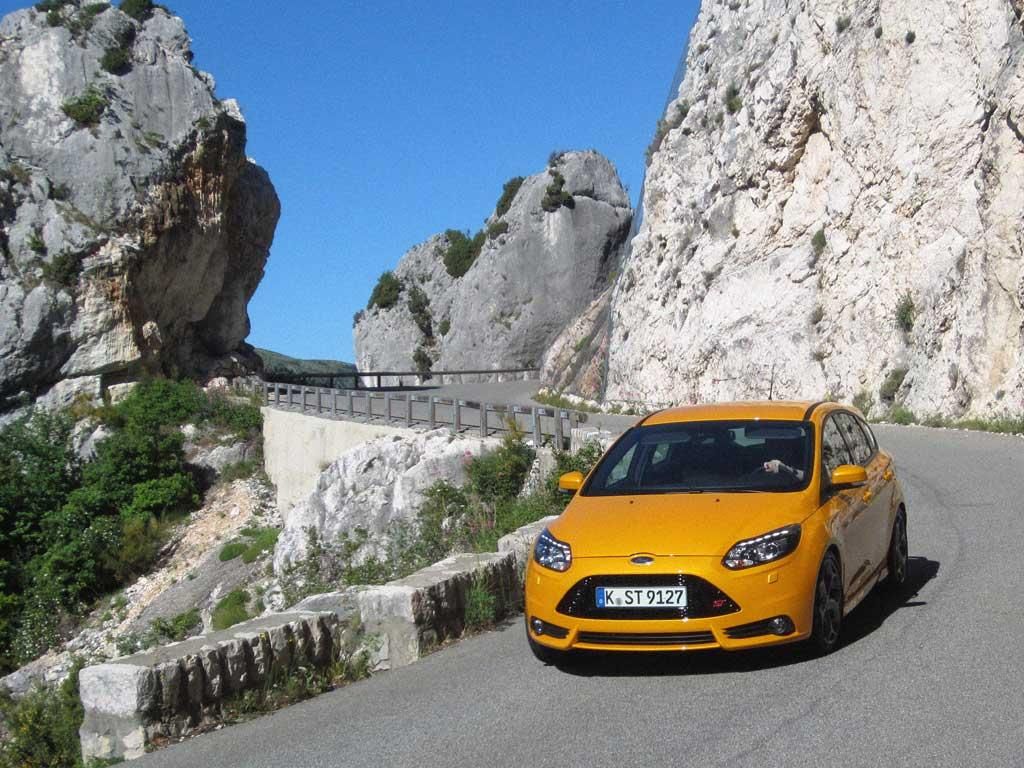 Chassis gives you lots of options
Mechanically identical, bar a slightly different rear axle to avoid intrusion into the load area, the estate is just as potent and, er, focused as the five-door and, in spirit, perhaps the modern reincarnation of the old Impreza wagon formula. No complaints there and, whether you opt for a Tangerine Scream hatch or more discreetly coloured estate, another example of the breadth of the ST's reach.
Clearly Ford hasn't forgotten how to engineer a great chassis either, fears designing one car for global consumption might dilute classic B-road ability thankfully unfounded. There's real class here with a low-speed plushness the likes of the Golf GTI could only dream of twinned with a playful, adjustable nature that presents you with plenty of options and reacts predictably and quickly to lifts and tucks. This is more than just a 10mm chassis drop and firmer set of springs though, an RS-inspired rear axle that attaches a thicker anti-roll bar directly to ST specific knuckles rather than to the subframe like regular Focuses maintaining roll stiffness without the need for rock-hard springs.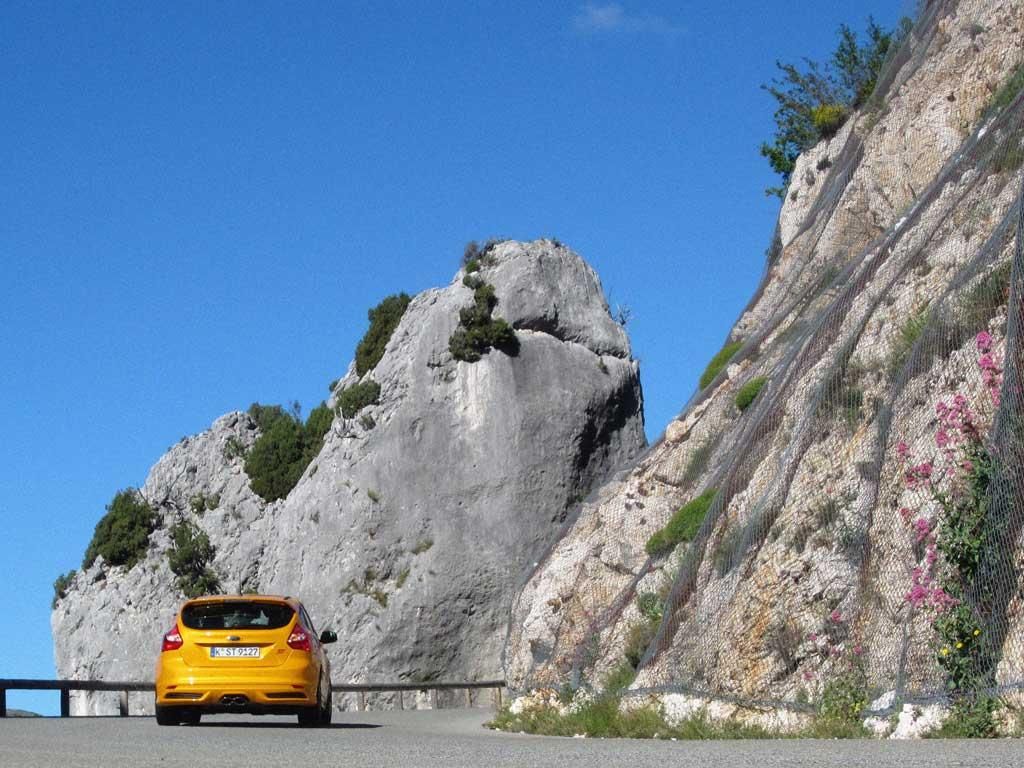 It'll do this all day and much more besides
The front is closer to the regular car but there are lots of interesting things regulating how that 250hp gets to the tarmac, not least Torque Steer Compensation that actually nips the steering straight via the EPAS if it detects the front wheels deflecting independently of steering input. Equivalents of the torque vectoring you get on your
and 'brake-steer' from the McLaren MP4-12C show how quickly supercar tech now filters down to everyman hot hatches, a variable-rate steering rack adding to the technological hocus pocus.
Electronic intervention
Despite protestations that "we do it the old school way" and it's about mechanical feel rather than electronics this all means there's a lot going on through the front tyres and steering wheel. There's a bit of artificially weighted mush around the dead ahead and then drop-off in resistance as you apply lock that, thanks to the variable rack, actually corresponds to a rapid increase in steering angle. It lacks the predictable, linear bite of a Golf GTI or lightning responses of a Megane and contributes to a heftiness that can feel a little stodgy on tighter roads. As things open out it gets better though and you learn to trust the combination of front-end grip, artificially enhanced or otherwise, playful rear axle, boosty power delivery and crisp pedal responses.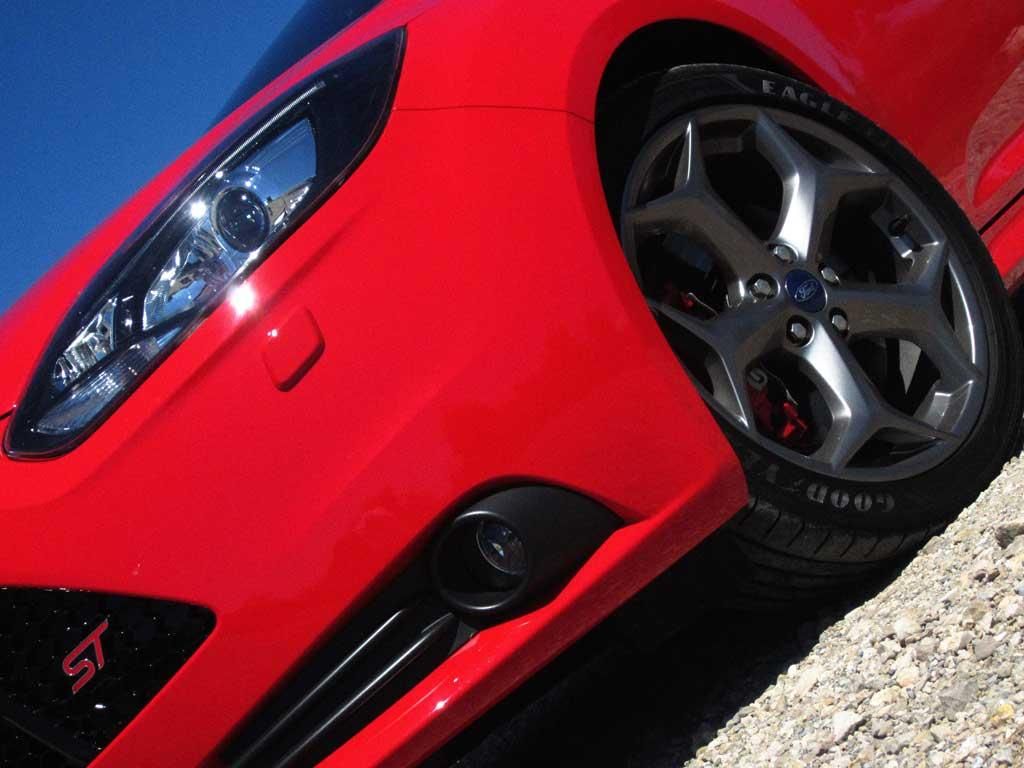 Grey 18s and red calipers for optional ST pack
It's more of a 9/10ths car than some of the more hardcore rivals but, frankly, that's the ST's comfort zone and it's very easy to slip into a very pleasing rhythm and cover ground extremely briskly. It's relaxed, easy going and the kind of car you could potter about in on the commute or family errands and then indulge yourself a little on those occasions when you find yourself on your own and on a suitable bit of road.
So it's appealing before you factor in some very aggressive pricing - a further benefit of the economies of scale global ambitions bring. That £22K will get you all of the above is pretty astounding, the more generously equipped ST-2 and -3 trim levels costing, respectively, £23,495 and £25,495 in five-door form and the estate adding a further £1,100.
Homogenous and all things to all markets the Focus ST may be. But it's good to know that at its heart it's still a proper fast Ford and a very, very impressive answer to pretty much every motoring need you could throw at it.

---
FORD FOCUS ST
Engine: 2,000cc 4-cyl direct injection turbocharged
Transmission: 6-speed manual, front-wheel drive
Power (hp): 250@5,500rpm
Torque (lb ft): 250@1,750rpm
0-62mph: 6.5 sec
Top speed: 154mph
Weight: 1,362kg
MPG: 39.2mpg (NEDC combined)
CO2: 169g/km
Price: £21,995 (ST-2 £23,495, ST-3 £25,495, estate +£1,100 on all)