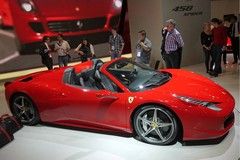 Ferrari has finally whipped the covers off its new 458 Spider, revealing its trick new aluminium fully folding hard-top (its first on a mid-engined car) in the metal for the first time.
The new top goes up and down in just 14secs and, although it adds 50kg over the weight of the 458 coupe, it is actually 25kg lighter than the fabric arrangement on the old F430 Spider.
The oily bits are carried over unchanged from the coupe, meanwhile, meaning the 562bhp, 398lb ft 4.5-litre V8 coupled to a twin-clutch transmission is a little slower than in the 458 Italia. A tenth of a second has been added to the 0-62mph time (3.4secs) as a result, with top speed dropping by 5km/h to 'just' 199mph.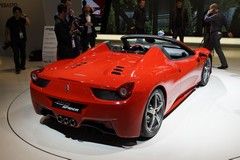 Aerodynamic 'buttresses' are designed to optimise the flow of air over the car, while the throttle mapping, spring and damper rates, and even the soundtrack have been tweaked specifically for open-top motoring, part of a concerted effort to improve the experience of high-speed open-top Ferrari-ing.
There is one unfortunate side-effect of all this, though; the transparent engine cover from the coupe has gone - if you want to see that engine, you'll have to lift the cover...