Tacked onto the launch of the
. Yes, we were surprised too. The most significant update to the 911 in nearly 20 years rather takes the attention away from the small SUV with a few (mainly cosmetic) upgrades. But there it was, new and shiny and ready to drive on the best roads Tenerife has to offer. Which, as it turns out, are really rather good.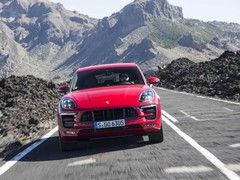 Macan is the last model to get the GTS treatment
Moreover, there was plenty of time to experience the Macan because, well, everyone kept hold of a 911 as soon as they had one. Funny that. Fear not if you have missed the vital GTS changes, because not only are they pretty minor but also damn near identical to the other GTS variants in the Porsche line up. Those being Boxster, Cayman, 911 and Panamera. And Cayenne. That being said they are often the best non GT variants and customers are keen too - they account for 15 per cent of sales even on the Panamera and Cayenne.
So it's 15mm lower on some natty RS Spyder wheels (20-inch diameter, which the Macan's body manages to dwarf), more of the outside is painted in black and more of the inside is Alcantara. Simples.
With a little less power than the Turbo the GTS feels slightly less fast. The revelations continue. But with 360hp it still feels suitably rapid, the bark from the sports exhaust rallying the driver along nicely until its constant overrun cackle makes you turn it off. The bi-turbo V6 is a very good engine though, willing and eager right through to the redline and well paired to the seven-speed PDK.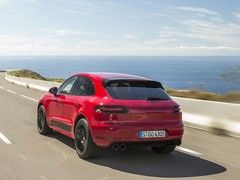 Good fun on empty Tenerife roads
The Macan's freakish agility, the way it can make so much weight move so swiftly, is enhanced in the GTS with that 15mm suspension drop. It never feels truly light but, like those incredibly fast rugby players, there's a sense of awe at seeing something so big move at such a pace. You will laugh but on the tight and twisty roads of Tenerife early in the morning the GTS is perversely good fun. Our car is fitted with PCCB - carbon ceramics brakes on an SUV like this! - and very quickly a rhythm becomes established of standing on those brakes as late as possible, jumping on the throttle pretty soon after and marvelling at how it grips. There's no understeer, no drama, just what appears limitless poise and purchase. It's quite a party trick. Very late on there's some push from the front but on dry roads the GTS just clings and clings. It may not be the most involving process but it's laudable nonetheless. Then you check the tyres, clocking a 265-section Michelin Latitude Sport 3 on the front and 295 at the back and it starts to make more sense...
But it's not all good news. As discovered in the UK, a succession of bumps can throw the body rigidity into light, a worrying degree of flex apparent as the cracks appear in the facade. Typically it rides quite nicely but the Macan can not entirely hide the compromises inherent in its development. There still isn't really enough space for a family SUV either.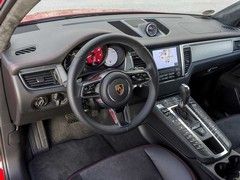 Plenty of Alcantara in here
Elsewhere though the familiar Macan traits are evident. The driving position is great, aiding that impression that you're driving a bigger hatch rather than a Q5-dervied SUV. Everything feels of a very high quality and - to these eyes at least - the GTS add-ons give the Macan some additional aggression that work well with its brutish appearance. Or maybe it was the Tenerife sunshine.
So it's business as usual for this latest Porsche GTS then, the options many are after added as standard to make a very accomplished car that little more desirable. But doesn't it seem rather a shame that this is desirable to the car buying public? Not that long ago a small Porsche could have been a saloon but such is the continued domination of the SUV and crossover that Stuttgart has felt the need to join in. All Macan praise has to be qualified with 'for what it is' - a near 2,000kg 4x4 - which seems a bit ridiculous. Whatever chassis modifications or huge tyres are used, a big and heavy car will never truly behave like a smaller and lighter one. It's disappointing that Porsche has to work almost with one hand behind its back to cater for market demand. Something in the mould of the Jaguar XE with these engines would surely be excellent, but it would likely prove less popular. Anyway, ideological rant over; the Macan GTS remains a very good car for, um, what it is and will no doubt prove exceptionally popular with paying customers. The priority, let's not forget. Fingers crossed it continues to make enough cash for this manual GT3 to be viable...

---
PORSCHE MACAN GTS
Engine: 2,997cc, bi-turbo V6
Transmission: 7-speed PDK, all-wheel drive
Power (hp): 360@6,000rpm
Torque (lb ft): 369@1,650-4,000rpm
0-62mph: 5.2 seconds (5.0 seconds with optional Sport Chrono Package)
Top speed: 159mph
Weight: 1,895kg (Unladen DIN spec)
MPG: 30.7- 32.1 (NEDC claimed combined depending on tyres fitted)
CO2: 207-215g/km (Depending on tyres fitted)
Price: £55,188