If your response to these pictures is to go running down to your local Official Porsche Centre with a freshly handwritten letter of intent and box of chocolates for the dealer principal, then you're probably already too late. But, yes, with the new second-gen 911 GT3 now out there it seems the GT department has finally got round to the long-rumoured GT2.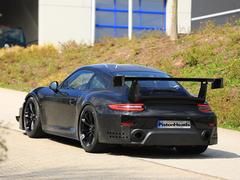 In Porsche myth and legend the
are, of course, the sole custodians of the 911's hairy-chested 'widow maker' reputation. Based on RS/GT bodywork but with a wildly overboosted turbocharged engine in place of the motorsport naturally aspirated screamer, they typically junk the regular Turbo's four-wheel drive and stick with RWD only. And a minimum of driver aids. The spy snappers are calling this car as
, suggesting Porsche has skipped the 'regular' GT2 (if such a thing exists) and gone straight for the full loon version.
The disguise is minimal enough to make some educated guesses though, if not on the really crucial stuff like exactly how much power (take a punt on 'a bit too much' and work from there) it'll actually have. Let's consider 600hp an absolute minimum and extrapolate from there. Manual or PDK? Given the hardcore cred that will be an interesting one; with the RS intended as the race car experience and suited to PDK and the GT2 more an 'enthusiast' car like the R, maybe it'll be manual only. It would fit the profile, certainly.
For now we can see it's based on the GT3 RS, which means a Turbo widebody with the distinctive indent on the carbon front lid and magnesium roof, wider front track and vented wings and a really big wing. Really, really big in this instance. There are also aero flics on the front bumper; whether these are in place for testing or intended for production will remain to be seen but Porsche has previous from other GT models. NACA ducts on the front deck that have been added since the last spy shots mark this out from the previous RS, the big-bore exhausts are now either side of the centre valance rather than paired in the middle and the camo panels on the rear bumper suggest some manner of additional cooling ventilation here, similar to that on the 997 GT2 RS. We're working on the basis there will be a fair bit of heat to extract from that engine bay and exhaust system...
More when we have it, but given how light the disguise is at this point we'll reckon on an official unveiling in the not too distant future.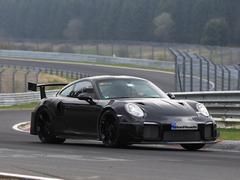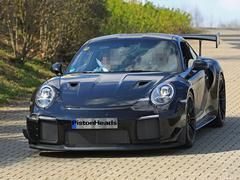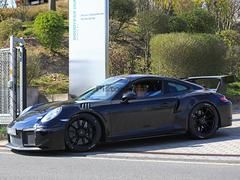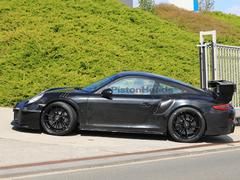 [Photos: S. Baldauf/SB-Medien]