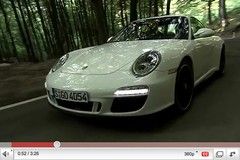 Porsche's new 911 GTS, launched before the public at the Paris motor show last week, has got to be as exciting a 911 as you can get without going down the turbo or GT3 route.
It's got the wide body from the Carrera 4S, but with two-wheel drive, and 402bhp from the 3.8-litre flat six. You also get natty little extras such as 19-inch centre-lock wheels, a sports exhaust and a plethora of design tweaks.
But actions speak louder than words, so here's 3m 26s of action. With some words.