It's Le Mans time again! 2016 promises to be a fantastic year for Le Mans, with the return of the Ford GT plus the latest P1 cars from Toyota, Porsche and Audi. Fans of V8 will be pleased to know the Astons and Corvettes are just as loud as ever too...
---
Knew I should have stayed. Nik and I left Le Mans early yesterday because of work commitments this morning and scary stories about the Eurotunnel. Of all the years to leave early...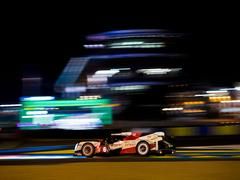 So near but yet so far for Toyota
When we set off the lead Toyota of Davidson, Buemi and Nakajima was looking comfortable, a historic victory on the cards and a fantastic race set to end in style. There was even the possibility of two Toyotas on the podium, with the second car of Kobayashi, Sarrazin and Conway in third. As you will now know it wasn't to be, and Porsche took the win.
It was a cruel conclusion for Toyota, but what an incredible Le Mans for them. Given all the pre-race focus was on Audi against Porsche, for Toyota to have come so close to its first victory was quite some feat. It should give them a huge confidence boost for the future as well. Let's hope they can win the overall WEC this year.
Elsewhere Ford is due huge credit for its GTE Pro victory. Beyond the posturing about the 50th anniversary (and the ongoing appeal from Ferrari), to have a car deliver so emphatically at its first Le Mans is a huge achievement. It bodes well for the road car too, though that definitely needs to sound more exciting than the racer!
A final thanks to all the PHers who came along for the weekend and helped make it a fantastic Le Mans. See you in 2017!
---
Premier Vert (the Internet is good!), Sunday 0900h
Night time is the best time at Le Mans. Yes, it is now the morning after, but I wasn't inclined to report back at whatever time it was last night!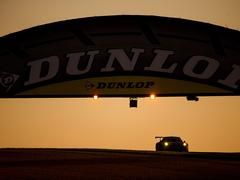 Our photos are just like this too. Honest.
We've been so fortunate with the weather, particularly as the forecast looked so poor just a few days ago. With the day drawing in at Tertre Rouge the light was incredible, clear and bright and creating the most beautiful backdrop for the cars. You could pick out every helicopter in the sky, catch the odd flame and marvel at the speed carried through the Dunlop Curves. Phenomenal.
Our night time viewing spot was the Ferris wheel, at least for about 10 minutes. Having never done it at Le Mans before, it was fantastic fun. Watching a GTE battle unfold from 20 metres up, lights ablaze and exhausts shrieking, was easily my best LM experience.
I could go on, but it's the morning now and there are five hours to go. Pleasingly there are two Toyotas in the first two positions - come on chaps! The Ferrari v. Ford battle is currently going Ferrari's way, but the #82 488 and two of the GTs are still on the same lap. Time to get back out there.
---
This is more like it! Following a fairly miserable start, the 2016 24 Hours of Le Mans is roaring towards the night in glorious sunshine. Famous last words perhaps...
Anyway, there's loads of great racing to talk about. Porsche might be leading but one of the Toyota TS050s is close behind, hopefully a battle for the lead that can last many more hours. Wouldn't it be great to see a Japanese manufacturer win again, 25 years after Mazda first achieved it? They get my LMP1 support purely for making more noise than the Audi and Porsche put together.
But if you want noise, you need a Corvette. What a car! It's like every baddie's V8 from a film, with the aggression off the scale and the volume at max. I love it. Though the rumble didn't feel so good for a rather delicate stomach this afternoon...
Ford against Ferrari looks to be the race's big attraction though. One of the GTs is out, but the remaining three are super competitive in the GTE class. And every time you see one, it seems like there's a 488 not far away. The Ford looks perhaps the quicker on a straight, the Ferrari maybe a bit faster at the corners. Now we need to get ourselves set for a night out at Indianapolis - more later!
[Since Matt filed his update things have moved on and the #6 Toyota of Sarrazin/Conway/Kobayashi has taken the lead in LMP1 and the #68 Ford GT of Hand/Muller/Bourdais is currently leading GTE Pro - stay tuned with the minute by minute updates on the feed from our colleagues at Autosport right here. DT]


---
Somewhere near the circuit, 1600h
We're racing! Frustratingly this year's 24-Hour started under the safety car because of a downpour just before three, inevitably removing some of the drama of the first lap.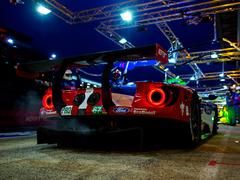 We'll be keeping a close eye on these
Despite fairly grim conditions in certain parts of the track, the cars are now at race pace. The Porsche already look very rapid, but the Audis and the Toyotas are right up there too. Just a few hundred more laps to go...
The really interesting battle here for me though will be the Ferrari versus Ford race back in GTE Pro, with the 488 and GT respectively. Both the cars look fabulous, and of course there's a great deal of pride at stake too. Ecoboost V6 takes on twin-turbo V8 in one of the classic sportscars rivalries - bring it on!

---
Friday, 1700h, Premier Vert campsite
It's not Le Mans without a Friday service, right? For the second year we hosted our Friday rendezvous alongside the Classic British Welcome, meaning an even wider array of cars than your normal PH Sunday Service. The promised rain didn't even materialise either, much to everyone's pleasure.
As always with Le Mans the liveries are just about as interesting as the cars, particular highlights for 2016 including Big Coq Racing, a Silk Cut Jaguar (XJS) and a John Player Special M3 (better than it may sound!).
The cars on show were genuinely stunning too. Alpine was the celebrated brand at this year's Classic British Welcome, meaning there were A110s, A310s, GTAs and more everywhere you looked. For fans of the brand, it was a fab morning.
The French put on a good display too, with a lot of Morgans, Ferraris and, surprisingly, American muscle. But of course PH was the place to be; we had a Venturi turn up, a Ford Cortina with a Lotus V8 and a brand new F-Type SVR as well. Those on top of a Maserati Gransport, a lovely Bentley Turbo, a Boxster Spyder... What better way to spend a Friday morning?
---
Thursday, 1800h, Premier Vert campsite
Well I'd call that a success! Our first Le Mans Pit Stop went really rather well, even if we were a little late... Apologies for that, but you can blame the overturned lorry for the delay!
Like all the best PH meets, out Pit Stop had a fantastic variety of cars, plenty of keen PHers and some great discussion too. You can see in the pictures and the video how well attended our little get together was, which certainly made the very early alarm call worth it.
Highlights as far as cars were concerned included a trio of Integrales, a Cayman GT4 and the usual rather nice selection of TVRs. Thanks to all of you for coming along, we hope you enjoyed the break and your goody bags. See you around the circuit soon!