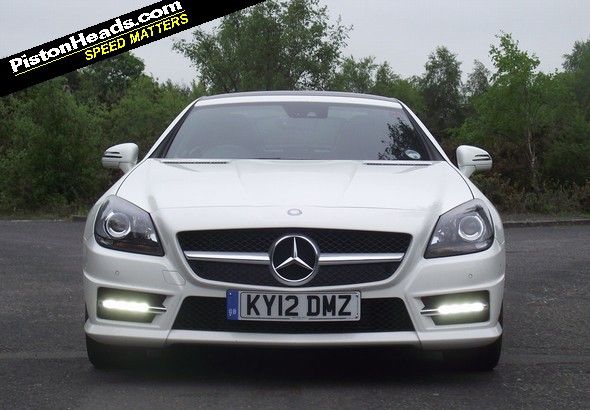 Last week I spent the majority of my driving time in a white Mercedes SLK. Powered by a four-cylinder turbodiesel. Now, if that sounds like a truly unholy (and most un-PH) combination of mildly girly boulevardier roadster mated to distinctly unglamorous powertrain, well, it is. But please bear with me.
We'll go into the whys and the wherefores of the diesel SLK in more detail another time, but here we'll just focus on one thing: range. Specifically, how nice it is to actually have some in a car with sporty pretensions.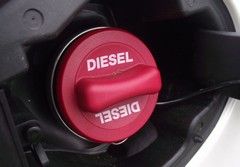 It's perfectly commonplace these days to find a hairshirt eco-diesel that'll take you 600-700 miles between fill-ups, and fast diesel execs will give you 500 miles at a push, but it's deeply unnerving (in a good way) to find that something like the SLK can do similar numbers.
In a petrol-engined sports car of this sort, you'd often expect to get no more than 275-300 miles of touring range before the fuel gauge dropped sufficiently low for you to search out a fuel pump.
In the SLK 250 CDI I zero'd the trip having brimmed the tank, and the car's electronic brain was still giving me a remaining range of 130miles after 465 miles of driving.
The key to the appeal of this is that it's just so liberating, the opposite of the so-called range anxiety you get with electric cars. Let's call it range confidence - the ability to start pretty much any journey and know you can finish it in one fell swoop.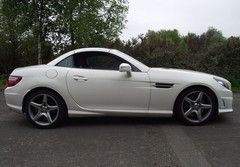 The SLK diesel seems to relish hard work, too. Part of my week's driving was a trip from Nottingham to Woking that I made using a mix of A-roads B-roads and motorway (I couldn't face the 50mph section of the M1). And the SLK refused to increase its appetite for fuel, the trip computer suggesting fuel consumption in the 40s mpg even during prolonged periods of 'making progress'. I guess you can thank a relatively low kerb weight and a massive wedge of mid-range torque for that.
The diesel SLK is far from perfect, mind - the diesel rattle is genuinely intrusive and rather grates in a car that ought to be about cultured cruising - but it definitely has its appeal, not least in that brilliantly liberating range.
Though perhaps the diesel sports car formula is a little more slickly expressed in the form of the BMW 640d, albeit at almost twice the price...
Riggers