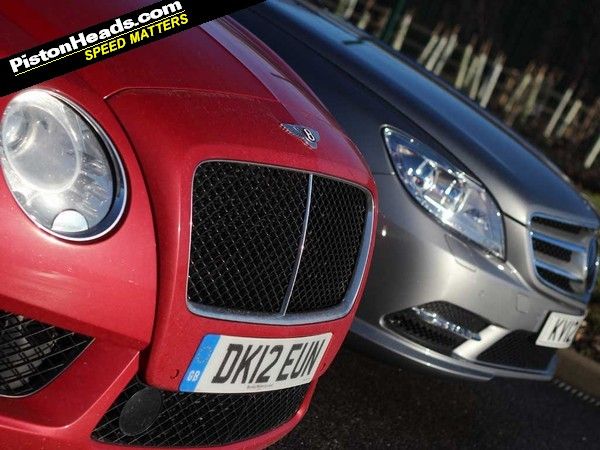 So, as you'll have heard Alex has been immersed in
all things Bentley
the last few days. We've still got the Conti V8 and could think of no better wheels to head up to a chilly Mercedes media driving day up the M1 in Barnsley. Indeed, much of this morning's content has been set live from the passenger seat of the Bentley, this being the mobile PH editorial office today.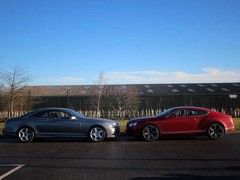 How do you like your coupe, German or, er, German?
I've instructed Alex to go out in the CL500, thinking this twin-turbo, V8-powered coupe a pretty good comparison with the 'baby' Bentley. But not until we got a cheeky snap of the two together.
Now, there's some fun history to play on here there being some degree of previous between Bentley and Mercedes back in the day. Most famously at Le Mans, when the legendary Rudolf Caracciola and his SSK looked like the only threat to the Bentley Boys' domination. The answer? Pure gamesmanship. The SSK's supercharger is a part-time system, manually engaged with a kind kick-down button on the accelerator and unleashing the most godawful howl that sounds like the engine is tearing itself to bits.
Which is prophetic, given that the Bentley tactics were to go off at such a rate that Caracciola would have to use his supercharger to keep up. Which he did and after a thrilling battle with Woolf Barnato into the small hours the inevitable happened and the Mercedes blew its engine and ground to a halt, Barnato and Kidston going on to victory.
The M1 beckons. Who do you reckon will win this one? Given Bentley's engine testing regimeI reckon the Conti might still edge it…
Dan
*Yes, we know who owns Bentley now…