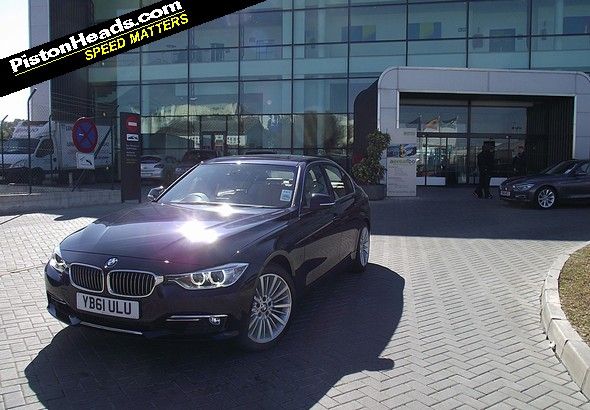 Hola from sunny Spain...
We all know that Speed Matters, so when BMW got in touch to ask us if we would like to drive a new 3 Series back to the UK from its press launch duties in Spain, our first question was 'what's the fastest one you've got?'.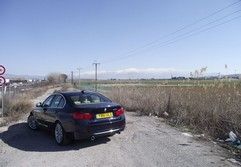 ...Mind you there's even snow down here
The answer was a 335i, which for now tops the new F30 3 Series range with its familiar but thoroughly excellent 306hp Twin-scroll turbocharged 3.0-litre straight six. Excellent. Better still, it was a display model and the only 335i out there, so until we got our hands on it, would be untouched by journalistic hands.
We'll bring you a full first drive of the new 335i once we get back to Blighty, so we'll only deal with a few first impressions here. So what are they? Well, the new F30 3 Series is, er, very much like the old one, only a little bit better in almost every respect. Faster, cleaner, more 'athletic' (both in the way it looks and the way it drives), but very, very familiar. So much so that more than once I've already forgotten that it's an all-new car I'm driving - but I mean that as the highest of compliments.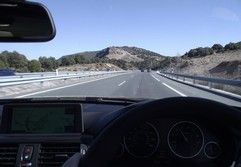 335i covering ground
In 335i guise it's also an epic mile-gobbler. Okay, so the 328i might have the edge when it comes to balancing power and economy (245hp, but 44.1mpg on the combined cycle), but the 335i counters with the fact that it's the only six-pot 3er available for now (and it's only a tad behind on economy, claiming 39.2mpg in automatic guise). And the new 3 Series, any new 3 Series, is a sufficiently comfy, pleasant place to be that the miles just fly by.
It's a good thing the 335i can devour big distances, though, because my initial plans for this trip had me in France by now and yet, as I type, I'm in Valencia. That's still 370-odd miles in half a day, mind, including an hour or two where I got bored of motorways and headed into the back-roads of Murcia, so call it bad planning on my part rather than the car's fault.
That does mean, however, that tomorrow (Saturday) will be a pretty mammoth trek, because Mrs Riggers is arriving in Poitiers in the afternoon. And that's 700 miles north from Valencia. Should be quite a test. I'll let you know how I get on...
Riggers