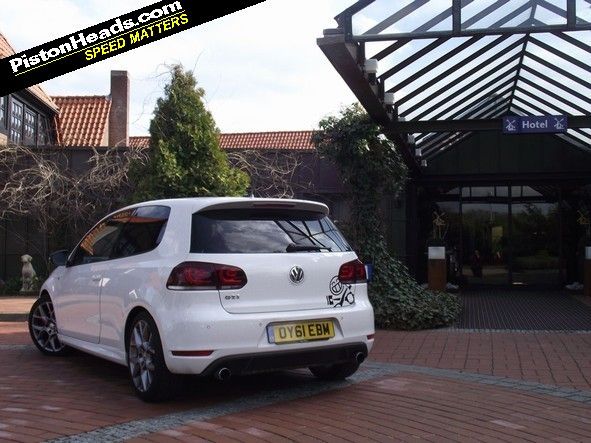 PH Fleet Golf parked up in Germany. Smiley is clearly pleased to arrive
In order to really get beneath the skin of a car, you need to see where it's been built. Which is why, as I type this, I'm sitting in the foyer of a hotel just outside Wolfsburg, with the
PH Fleet Golf GTI Edition 35
in the car park. We've brought the GTI back to its homeland to see what makes it tick.
Over the next day or two we'll be seeing where Golfs are made, meeting the people who make them - and turn them into GTIs - and taking a tour around more than one museum. Oh, and we'll also be going for a spin in a couple of very special fast Golfs of yesteryear.
I'll be adding to this blog as regularly as wi-fi allows, so keep checking back here for updates.
Riggers

---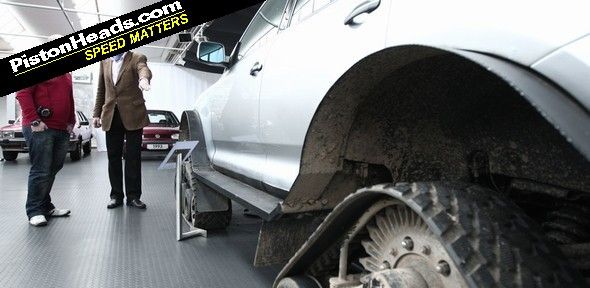 Prototype Touareg number one, with tracks at the behest of Dr Piech. And a W12 engine...
Friday: Hockenheim, 1600h
Just arrived in Hockenheim and there's just time to chuck up a few pics from our museum tours yesterday before I have to head to Frankfurt airport to pick up the Better Half (one of the deals for me being allowed out to play in Germany for a few days!). On the way I'll be stopping by a small memorial on the A5 autobahn to pay tribute legendary German racer Bern Rosemeyer, about which you'll be able to read more soon.
Anyway, here are the pics. Enjoy - Tchuss!
Stiftung AutoMuseum
The Stiftung is VW's brand-focussed place, and is endearingly shabby, yet with a wealth of properly interesting cars. Apologies for the photos, by the way. My near non-existent German caused a small translation issue - he thought I wanted pics of me. Quite why this would be, I'm not sure...
| | |
| --- | --- |
| 4wd Schwimmwagen from (don't mention the event) | Beetle-based roadster built in Stuttgart... but four years before the 356... |
Zeithuas
The VW Zeithaus, part of the Autostadt park, is a much more glitzy exhibition of cars than the Stiftung, and also strays far away from VW group products, as you'll see...
| | |
| --- | --- |
| Cadillac V16 | Audi was always a modest brand... |
| Sharing space with a Beetle, 59 Caddy seems massive | 1955 Beetle was millionth VW. Decoration makes it look like a Damien Hirst installation |
| Pop quiz 1: what's the top speed of the four-wheeled version of this? | Pop quiz 2: which are the driven wheels? |
|   |   |
|   |   |
---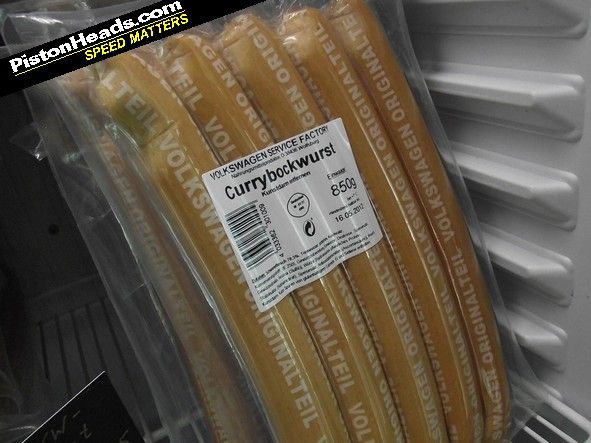 Friday: VW Autostadt car park, 0930h
After a pleasant couple of days in and around the 'Detroit of Lower Saxony', it's time for the off. But not before a quick stop to buy a couple of souvenirs - official VW currybockwurst (yes, I am that obsessed) and some VW-branded ketchup.
The bockwurst seem expensive at almost 8 euros for five, but the fact that they have 'original Volkswagen parts' on the packaging tickled me enough to reach for the wallet. A sucker for slick marketing, me?
Anyway, next stop is Hockenheim for the first round of the DTM - and you'll of course be able to read all about it on PH...

---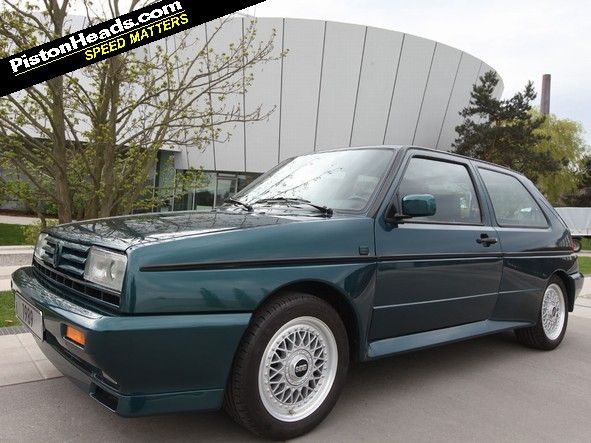 Thursday: VW Autostadt, Wolfsburg, 1815h
Given the excitable response from our
article on the widebody Opel Manta
we published today, the chunky arches on this Golf Rallye ought to get more than a few PHers quietly dribbly.
Wheeled out of the VW Autostadt's heritage collection for us to take for a quick spin (more on that coming soon) all this 15,000km example needed after 18 months as a static exhibit was a fresh battery and some refreshed fluids of various sorts.
So how does it feel? Like it came out of the showroom yesterday, in terms of its condition, but definitely quite old school in its behaviour. With 160hp and Syncro all-wheel drive it's definitely fun, but a long gearchange and surprising low-down lethargy make this one homologation special that definitely feels its age. Fun? Definitely. But worth twice as much as a 'regular' GTI? That they took a good couple of years to sell all 5000 they made probably tells you all you need to know on that one...

---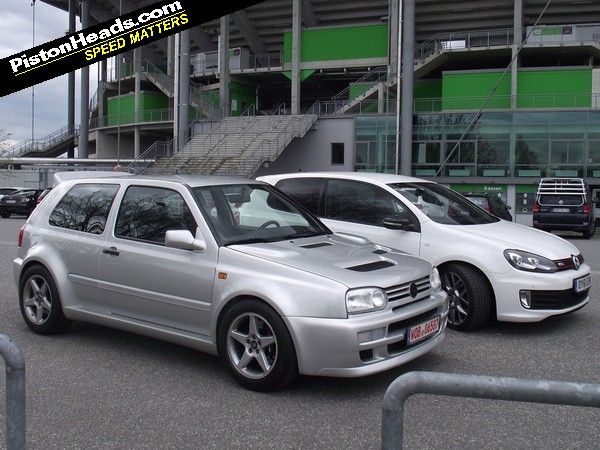 Thursday: Wolfsburg football stadium, 1700h
Turns out a cock-up on the timing front (on PH's part) has meant that our visit to the Stiftung AutoMuseum has had to be postponed, but how about this as compensation? It's the A59 Mk3 Golf rally homologation prototype that
Dan spied at Techno Classica
in Essen, and VW has wheeled it out to give us a closer look.
It's a fantastic machine with a fascinating story behind it - a 275hp all-wheel-drive Golf built as a project by the same team behind Audi's early 90s DTM cars and intended to be the basis of a WRC car but canned before the project got off the ground. Now, after a short but hard life hacking around the Nurburgring followed by 15 years in mothballs, it's been re-commissioned.
They were going to let us drive it, too, but sadly it lunched a rear drive shaft barely a mile into our time with it and before yours truly got behind the wheel. But you'll be able to read all about that soon enough in a full feature on the car...

---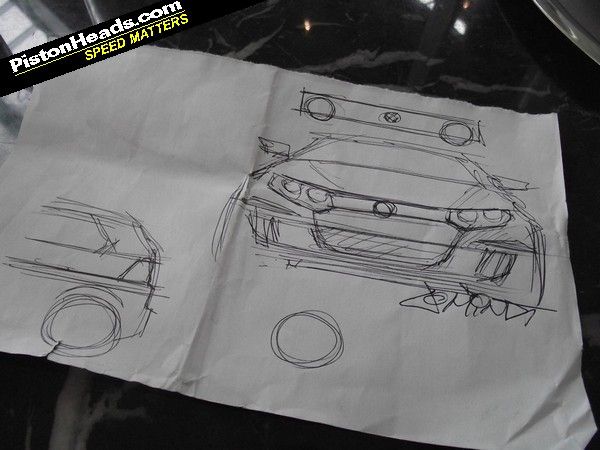 Thursday: AutoStadt cafe, 1515h
Cracking late lunch of currywurst and chips (when in Rome, etc) in the company of VW designer Andreas Mindt, whose most recent project has been the Mk7 Golf. Sadly he couldn't tell us a great deal about the new car, so we'll have to wait until the Paris motor show in September for that.
The upside, however, was that we spent most of the time randomly chatting cars. Turns out Andreas, as with so many designers, is a proper car nut, with a particular fondness for British kit cars. And that he's someone who spends more time than he should browsing the PH classifieds (check out our international status...). He also has tucked away in his garage a Beetle with a 120hp 2.0-litre engine from a Type Four VW bus.
We did talk about modern VWs a bit, too, Andreas penning this sketch for us to explain how everything in the Golf's 'face' is carefully integrated and thought-out. "Some people accuse us of being boring, but getting a simple, timeless design is tricky - that's what we hope to achieve with the Golf." Intriguingly, he also cites the Mk1 and Mk4 versions as the most important examples of the breed stylistically...

---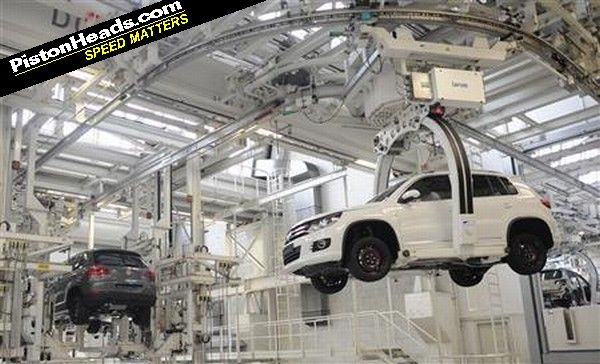 Wednesday: Wolfsburg factory tour, 1600h
"You're not allowed to take any photos, I'm afraid," says our genial guide, whose Teutonic moustache possibly out-Germans even
Dieter Zetsche's
. "Mind you, we once had some Japanese guests who got around that by drawing what they saw!" I reassure him that my artistic abilities would embarrass a four-year-old.
Even so, it's a bit of a shame that we can't take any snaps, because the car we're in is a fantastic Wonka-esque contraption - a 7-seat Touran with the roof and doors surgically removed, and all finished beautifully. Larger groups get a 'train' based on a chopped-open Mk5 Golf with a 300hp V6 engine, but we have to 'make do' with a custom MPV.
It's necessary, though, because we're being shown round the world's largest single-site car factory, one with more than 70km of indoor streets and roadways - it's so big that employees use bikes to run errands between departments. And even though only a small part of the factory floor is on show (they're tooling up for the new Mk7 Golf, which is due in the autumn), it's still a heck of a place.
While it's disappointing not to be able to show you our transportation, however, you're not missing all that much when it comes to the visuals of the factory - it looks like, well, a car factory, albeit a scrupulously clean and airy one.
No, what's amazing are the stats of the place. This is a plant that can churn out up to 3,800 vehicles a day (making it the highest-capacity as well as the largest one-site factory in the world), last year made 806,000 cars, and which employs 50,000 people (though 25K of that staffs the corporate HQ side of things).
Oh, and one more nugget to chew on: fully 20 per cent of production is picked up on site at VW's Autostadt (which we'll be visiting tomorrow). That's 700-800 cars per day...