You don't see these coming up very often, and by the time this story gets to print you might have already missed it, but we're going to take that chance because, well, to quote tousle-haired Geordie singing sensation er whatshername, the AX GTI is worth it. Especially one like this, that has somehow escaped the tender ministrations of the Barrying brigade. The wrecking potential of ill-considered mods was never more of a threat than it was on this little sprite.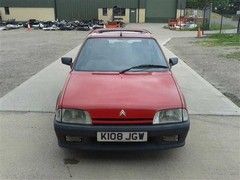 For those of you under 40, the AX was sold between 1986 and 1998. Citroen made nearly two and a half million of the little blighters all told, but they're a rare sight these days. It's fair to say that they weren't really built to last: the basic 1.0-litre model weighed less than 650kg.
But therein lies the appeal of the 1.4-litre AX GTI. Sneer at its 100hp and 89lb ft at your peril, because even though it's nearer to 800kg, what's that really? This is still a quick little car. That single-cam two-valve 1.4 TU was as sweet as candy, and strong to boot. Max power came at a zingy 6,800rpm. As the 'I' in the name suggests, it's fuel injected and not dual-choke carb'd like the earlier (and lighter still) 86hp GT, but throttle response will seem lightning fast, undimmed by the tragically endulling effects of emissions legislation over the last twenty years.
In something with all the crash protection of a cereal carton, zero to 60 in eight and a bit seconds and a near-120mph top end become fantastically exciting stats.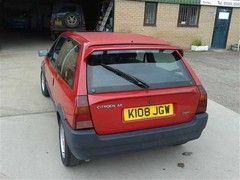 Original down to the alloys - result
High power and low weight doesn't always mean energising handling, but it does here. Drive an AX GTI and you'll believe a front-wheel driver can sing. It has all the party tricks of the late 20th century, including kart-like steering, lift-off oversteer and wheel-cocking. Talking of cocking, in 2005 James May cited it as the best car in the world. You will feel alive again. That is a solemn Shed guarantee.
The interior is practical, if flimsy, connecting the driver directly to the road (quite literally if the floor is rusted out) with lots of oddments space to throw your speeding fines into and door bins big enough to hold a wine bottle. You can imagine the Citroen folk specifying that early on in the development process.
This car is from the first year of GTI production and looks exactly as it should, right down to the correct alloys. The genuine-sounding owner has given it some useful attention on the mechanical side, including a new cambelt. Interesting that it doesn't have the catalysed engine, as Shed thought that was standard tackle on these facelifted cars, but then again he thought Pluto was a dog not a planet so you can't trust much of what he says.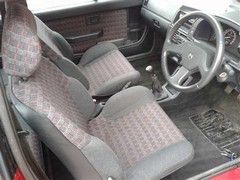 Don't forget a vin rouge bottle for the door
Jobs for the next owner are not too daunting. Floorpan corrosion may sound a bit worrisome, but he says it's minor, and besides, 2CV owners just laugh this sort of thing off as a minor inconvenience. At this price, and with this mileage, letting some new metal into the 'pan has got to be a job worth doing. Faded roof paint? Nah mate, that's a special matt finish I've gone for. Only you and police helicopter pilots will know. This looks like a great basis for a very rewarding project, with the potential for some low-profile old school tuning that won't ming up its originality - a new cam and manifold, say.
A dancing, darting flea of a car, but without any of the itchy annoyance. Buy now while stocks last - or before Matt Bird takes his carefully saved-up day of PH annual leave in Suffolk.
For sale Citroen AX Gti approx 98000 miles
This AX is perfect for restoration as it has never been modified, very rare to find in this type of hot hatch.
I have owned this vehicle for some time with the intention to restore but haven't found the time.
It starts and drives well, it has an mot until june 2016. It has a few advisories with slight corrosion to floor pan, brake pipes and tyres are getting old. As with all red Citroens of this age the roof paint is faded. I feel the price reflects this as good original examples are worth considerably more.
Interior is as good as new and benefits from elec windows, central locking, sunroof ( incl carry case). This car is a relatively low mileage for age and has recently had engine timing belt, front pads and discs, battery, spark plugs and service. This is a pre catalytic converter car with a DN engine code which means 3.5% co for the mot, thus there is room for tuning.
Please contact me for further details