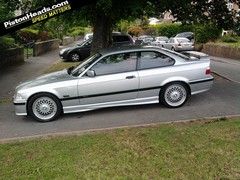 Once again Riggers is out of the office 'working', and so Shed returns to my desk once more and the weekly hunt for a £1000 PH-worthy car is down to me.
As regular devotees of SOTW will probably know, I have three criteria when searching for a Shed of the Week - it must be limo-sized, it must be an auto and it has to be a Merc. But something changed this week, because I've cheated on Mercedes for a dabble with its deadliest rival. I feel dirty.
Back in 1996 we had a fairly new BMW 318is on the used forecourt at the dealer where I worked. It was black with grey cloth and, to be honest, we hadn't had much interest in it, but I rather liked it. At that time I'd never driven an 'is' before and seized the opportunity to take this one out once my boss had gone home for the evening. It wasn't taxed, so trade plates were attached and I was off (after jump-starting it if I recall correctly).
I remember how much I liked the way the car involved the driver, how the dash wrapped around you and how good the four-pot sounded. I was selling Mercs at the time and we didn't offer anything as focussed; we certainly didn't offer anything with a manual box as smooth either and (rather reluctantly) I was seeing the appeal of the blue-and-white roundel.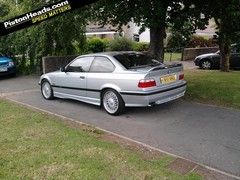 It was shortly after this thought that my inexperience let me down and the back end stepped out as a result of ham-fisted gear changes and a boot of throttle. As it stepped out I lifted off (foolishly) and performed a graceful pirouette, before coming to a stop facing the wrong way. Fortunately the road was quiet, but I had come to rest only a few feet from a lamppost. I blame being only 23 at the time and having only just started at the dealer a year ago (after owning nothing feistier than a 1.1 Fiesta). I was hardly the expert. I liked the BMW, though...and I'm sure the new owner did too.
Today these cars are worth a grand - and that's not bad is it? For your money you'll be getting the rather beautiful E36 coupe body, containing a 140bhp, 1800cc engine (though this car could just possibly be a later car featuring the 1900cc M44 engine that also saw service in the Z3) that gives over 130mph and a 0-60mph time of 10.2secs.
For a fairly small four-banger you get a reasonable 132lb ft of torque, too, and when it's wrapped up in a chassis as tight as only BMW know how, you'll find that's more than enough to get into trouble (just don't drive one like I did).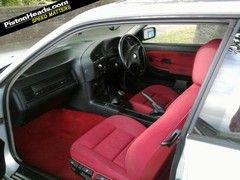 When new, the earlier cars were offered with the M Power styling kit as an option (it became standard in the run-out models) and, although I prefer the purer look of the unadorned coupe, this week's Shed comes with all the M stuff glued to it. It's in-keeping though, and doesn't look out of place, especially when teamed up with the BBS split rims and silver paintwork
Looking at the advert this car seems in very good health, is versions of the E36 regularly fall into shed budget but they don't always look like this, especially not with tax and test thrown in. Tempted? I think you should be, I know I am. This needs to be bought.
Advert is reproduced below:
1996 BMW 318is, 124,000 miles, £1000
BMW 318is for sale, this cars is in great condition, runs perfect without any problems. It is surprisinly good on fuel aswell. It has 17 inch bbs split-rims which are in ok condition but could do with a re-furb at some point to be perfect. The car has a factory fitted m-tec boby kit all round. Also has red carpets and red seats and red door card trim. It has electric windows and sun roof. It has tax for five months and mot till august. The tyres are all in legal condition with one tyre new. This car is great and i will be sorry to see it go, but due to me finishing uni for the summer very shortly i need the money to see me through.£1000.