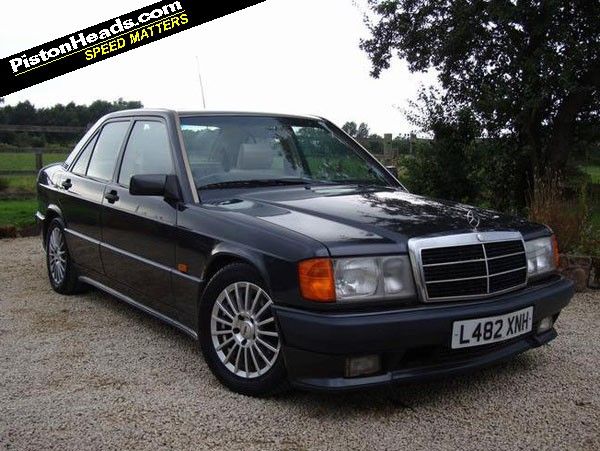 Such are the perils of browsing the PH classifieds. Shed's goal this week was to find something suitable for anyone man enough to
take on Ken Block
at the Gymkhana Grid event this weekend at Silverstone. Well, not Ken himself because he'll be contesting the four-wheel drive category. Figuring 4WD for Shed money capable of taking on Block was probably a long-shot and something skiddable to take on the fabulously named Vaughn Gittin Jr for rear-drive honours was more realistic we found this
unlikely drift machine
, using the new classifieds search and honing it down to rear-drive cars for less than a grand. Yep, a Volvo 340 with a welded diff - the underground drifter's car of choice.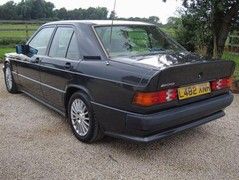 It's got the look, if only half the cylinders
It's there if you want it but en route to that Shed got a bit distracted by a rather more salubrious looking Mercedes 190, complete with AMG style bodykit to give a passing resemblance to the AMG Hammer
Chris Harris drove
earlier this week. AMG did in fact do a proper 190 back in the day, nicknamed the Baby Hammer and powered by a 3.2-litre straight-six.
This isn't a Baby Hammer. Nor is it even a 2.3-16. Not even a mallet then. Indeed, with just 122hp from its 2.0-litre engine and a four-speed auto the skins of rice puddings are going to remain safe in the company of this AMG-lite.
So it ain't quick. But it looks pretty clean for the money - cleaner than the 2.3-16Shed was previously tempted by - and the 190 most certainly hails from the period when Benzes were built like Benzes. Four-door practicality is nice too, though rear space is tight for full-size folk, and the beige cloth and 'Zebrano' wood means a decidedly old-man feel, fugly 'sports' steering wheel and aftermarket wheels or no.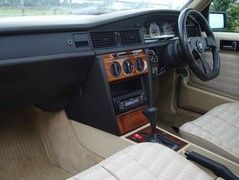 A bit grey slip-ons but very clean and tidy
More show than go then but the 190 is maturing nicely, built like the proverbial and those crisp, angular lines look to have been very well preserved on this example. Quirky period features like the asymmetric mirrors and that distinctive single wiper with its telescopic, to-the-corners action have amusing novelty value too. Make sure there's no rust hiding under the bodykit, hunt down some period AMG five-spoke disc wheels and you'll have a very nice looking car. Admittedly one whose laid back, can't-be-rushed driving dynamics will be totally at odds with the looks. But, hell, if you're only going to be driving around town who's to know.
Advert reproduced below.
190 190E 2.0 4DR AUTO - AMG STYLING - FULL (£989)
4 Doors, Automatic, Saloon, Petrol, 1993 L Reg, 115000 miles, Black. Full service history, Full AMG cosworth body kit, Beige interior, In superb condition for age, 17" alloy wheels, Good tyres all round, 12 months MOT has just been put on, 2 keys, Immobiliser, CD player, Electric windows, Electric mirrors, All the previous Mots to prove mileage, Full book pack, Insurance Group:13,