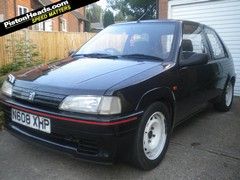 There aren't many potential SOTWs out there where having the 1.3 version marks you out as the true connoisseur, but today's offering is one of them.
After all, who needs displacement when you've got 100bhp of screaming 7200rpm fun from your 1294cc four-pot. Okay, so you'll take 10.6secs to reach 60mph from rest, but you should have a heck of a lot of fun on the way. More so, as conventional wisdom has it, than in the 1.6-litre 'series 2' car.
Don't expect a lot of kit, mind you. This is definitely one of those cars that's more about what you don't get than what you do. What you don't get is power steering, electric windows, alloy wheels or ABS (though this last was one of two optional extras).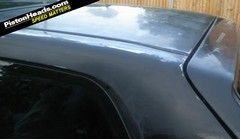 What you do get are body stickers of dubious quality, white-painted steelies, and the chance to pretend you're a budding tarmac rally driver looking for your big 4WD break as you chuck your 810kg supermini around with gay abandon. And what's not brilliant about that?
Okay, so this particular example looks (how to put this politely?) moderately foxed, but then a clean example of a Mk1 Rallye could easily set you back a good couple of grand, and it does at least seem as if the issues with it are cosmetic. And it would be churlish to expect an 800-quid car to be in concours condition.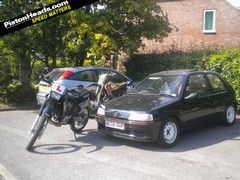 The way we see it, you could go two ways with this car: buy, drive it and have a hoot in it, and don't worry too much if it breaks, or buy it, pamper it and, with a spot of judicious fettling, take it on track and have a hoot in it. Either way, we reckon you could have a ball...
Advert is reproduced below

s1 106 rallye (1995)
10,010 miles £800
106 rallye s1 black 7 months m.o.t 4 months tax sunroof keypad Immobiliser good engine 101k miles cam belt head gasket and clutch done by last owner no proof of work . wax oiled new battery alternator belt spark plugs and leads two sensors and hand break cable done receipts to prove. one tyre will need replacing soonish drivers seat in bad condition but still works. roof has been sanded down ready for primer some little dents in the door chip in the window-screen m.o.t certificates from 2001