And cheap doesn't necessarily mean nasty. The cars were built by VW at the old NSU factory under Porsche's obsessive quality control. Bodyshells were fully galvanised and the inevitably sluggish acceleration is offset by sweet handling, thanks to a 52:48 front-to-rear weight distribution.
The 924's also a pretty practical touring proposition: it's got rear seats - sort of - and decent boot space. There's even a racing series for 924s that's been going for nearly 20 years, run by the BRSCC and Porsche Racing Drivers Association.
It's worth bearing in mind, though, that a 27-year-old car will need a bit more regular maintenance than a youngster. And although the 924 has a fairly solid reputation for reliability, if anything does go wrong you'll be potentially faced with some nasty Porsche-priced parts bills. Water leaks and electrical gremlins are particular bugbears.
Even so, if you've got a hankering for a coupe with retro-tastic pop-up headlights and a celebrated badge on the nose, now might be an opportune time to get one. The 924 might just be one of those Shed-today, classic-tomorrow cars...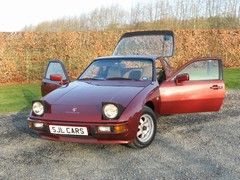 Advert is reproduced below
PORSCHE 924 TAXED &MOT,D VERY USABLE CLASSIC CAR £950
REALISTIC PRICE AND NOT A BIT OF RUBBISH CHECK PICS
Description
THIS IS NOT YOUR USUAL RUBBISH.
THIS CAR HAS BEEN USED EVERY DAY BY ITS PREVIOUS OWNER AND HAS BEEN A VERY RELUCTANT SALE FOR HIM.
IT WAS ONLY SOLD AS HE NEEDED A FAMILY CAR FOR HIS 2 KIDS, AND THE PORSCHE WAS NOT GOING TO DO THAT JOB.
THERE HAS BEEN A LOAD OF MONEY SPENT ON THIS CAR AND I HAVE LOADS OF RECEIPTS FOR IT.
THE CAR IS MOT,D UNTILL DECEMBER 2012, AND IT IS TAXED UNTILL MAY 2012, SO THE CAR IS READY TO DRIVE AWAY.......AND DRIVE IT DOES WITH EXCELLENT PERFORMANCE AND HANDLING.
THE BODYWORK IS IN EXCELLENT CONDITION AND THE WHEELS ARE PERFECT.
OVERALL THIS IS A VERY USABLE CLASSIC CAR AND I HAVE BEEN DRIVING IT MYSELD BEFORE PUTTING IT UP FOR SALE, AND THIS HAS GIVEN ME THE CONFIDENCE IN THIS CAR TO SAY THAT IT WILL NOT LET YOU DOWN.
REMEMBER THEY CANT MAKE ANYMORE OF THESE SO THIS IS THE CHANCE TO GRAB A REAL NICE CLEAN CLASSIC CAR FOR NOT ALOT OF MONEY, AND YOU CAN DRIVE IT AWAY STRAIGHT TO THE CLASSIC CAR SHOW.
EVERYTHING WORKS AND OPERATES AS IT SHOULD WITH NO KNOCKS OR BANGS.
NO OIL WATER OR COOLANT LEAKS.
I MUST HAVE DRIVEN THIS CAR FOR WELL OVER 100MILES NOW WITH NO FAULTS.
POINTS TO NOTE......NO RADIO. REAR PARCEL SHELF STICKING.
THIS CAR IS PRICED TO SELL AT £950. I HAVE SEEN THEM ADVERTISED FOR THIS MONEY AS A PROJECT, AND THIS CAR IS READY TO GO.
PLEASE CALL OR EMAIL WITH ANY QUESTIONS
YOU WILL NOT BE DISSAPOINTED