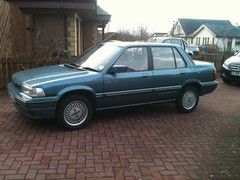 Having worked briefly for a well-known car rental franchise in a small UK town in the mid-to-late '80s, I claim to know a thing or two about the Rover 216 'SD3' models.
For instance I know that if an out-of-town punter returned his rental out-of-hours on a Friday evening, it was child's play to pick the keys and the paperwork up from the letter box, get to work with a ballpoint pen and find oneself the proud keeper of a 216 Vitesse for the rest of the weekend. Getting it back in one piece before the morning shift started on Monday was the key to a successful operation.
I also know how youthful exuberance/idiocy can conspire to wreck even the best laid plans. In which case, and assuming said 'rental' was in more than one piece come Monday, it was best if that out-of-towner was heading to Heathrow on the train and a flight home to some far flung country. The farther flung the better...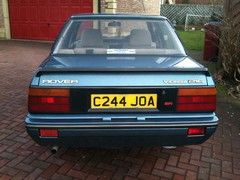 But most of all, I know that back in 1986, the Rover 216 was a nicer car to drive than a Montego, which also littered rental fleets back in the day.
Especially in Vitesse EFI guise like this time-warp specimen up for grabs on eBay, which features uprated suspension, sporty seats and natty latticed alloys - even if it can't muster the V8 power unit of its bigger (and more credible) brother the SD1. (OK, it's only got a 102bhp four cylinder 1600 S-Series lump, but it does feature Lucas electronic fuel injection which back then warranted a logo on the rump.)
Still, not an obvious choice for SOTW we freely admit, but this one caught our eye because it's done little more than 25k miles, and it looks so clean - check out that engine bay shot, and the blurb from the vendor who's selling a car which used to belong to his evidently fastidious Dad. We know we did a 'proper' Rover last week, but there's mileage in this for somebody, surely?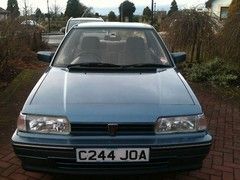 Advert says:
Unique opportunity to own a genuine low-mileage, excellent-condition, light blue Rover 216 Vitesse EFI.
Previously owned and lovingly looked after by my father, this car has been garaged throughout its life, regularly serviced, regularly cleaned and polished, and has genuinely only 26,450 miles on the clock.
Grey interior with mahogany finish on doors, 4-speaker stereo radio cassette player, electric front and rear windows, central locking - all in full working order. Tyres and exhaust have only about 500 miles use.
Taxed to end March 2011 (not renewed as garaged at present) ; MOTd to 6th July 2011; runs on unleaded petrol.
PLEASE FEEL FREE TO ASK ANY QUESTIONS AT ALL
CAR IS AVAILABLE TO VIEW
THANK YOU FOR LOOKING!