While the pictures used in the article suggest otherwise - we didn't have the time to shoot it properly - the
you see here is the very car used for our PH road test a couple of months ago. Yes, the same one that I described as "rather skittish", not all that fast and "difficult to recommend." And now we have it for six months. Totes awks, as someone born in this century might say.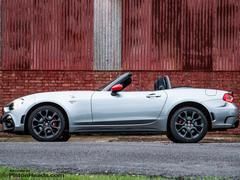 Imagine if it was just a tad lower...
I wasn't hugely impressed by the Abarth on a brief test then - there's no point hiding from that, and we may as well be honest from the off. However, isn't the opportunity to change those opinions the point of a long-term test? Qualities that may not have revealed themselves back then can come to the fore in more normal driving scenarios, and the relationship can blossom. I've been spoilt in the past, using long-termers that I liked on first acquaintance -
- so it will be interesting to see just how this develops with a car that I'm not yet enamoured with.
As a car from the Abarth press fleet, rather than something brand new, RO17 DVK arrived with a fair few miles on it: 8,858 to be precise. More than a loan normally starts with, but that does at least mean the dinky 1,368cc turbo should be fighting fit after beginning its life with journalists... There are only three options available on the Abarth 124 Spider, and this car has all of them. There's the paint (Portogallo 1974 Grey, £600), the Visibility Pack (£1,250 for auto lights and wipers, plus parking sensors) and the Bose stereo upgrade with a subwoofer. Were it my spec, I'd probably go for a paint that contrasts with the black bonnet a bit more - both 'Costa Brava 1972 Red' and 'Turini 1975 White' are cheaper than the grey too - and could do without the Visibility Pack, though the stereo upgrade is welcome. On very early experience the sound quality seems quite good, and speakers in the headrest are particularly handy for phone calls with the roof down. One to report back on in more detail soon.
Because, to be honest, I've not driven it a great deal yet. It arrived last week, Ben took it for these lovely pictures, and I've used it for a couple of commutes. Pleasingly though, there are some good points already. Making that much noise in urban areas is entertaining (in a rather juvenile way), and the Abarth feels small, nimble and potent. The gearbox has perhaps got even better with a few miles in it too; roof down and darting through traffic, the Abarth is right giggle.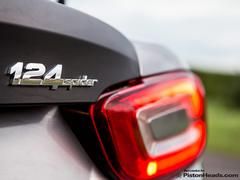 Well it should be the most PHey of the MX-5/124s...
There's plenty more planned for it as well. The inevitable comparison with the
equivalent is coming up, as is one with an
hatchback. Is there any more you would like to see? It would also seem appropriate to get this more focused 124 on track, to see how those upgrades over the standard car - limited-slip differential, Brembo brakes, Bilstein dampers - really perform. Given how conditions were for the road test, it would be really nice just to get the car out on a good B-road in the sunshine too. And there probably aren't many weekends left to do that now...
So there will be a lot to keep the Abarth busy over the coming months, and I'm intrigued to see how it will fare. With the honeymoon period coming to an end, the real tests will begin in earnest soon. As ever, if there are any suggestions or ideas for what the car needs to do during it's time with us, I'm all ears!

---
FACT SHEET
Car: 2017 Abarth 124 Spider
On fleet since: August 2017
Mileage: 9,024 (delivered on 8,858)
List price new: £29,565 (As tested £32,210 comprising £600 for Portogallo 1974 Grey paint, £1,250 for Visibility Pack (LED headlights with automatic levelling and washers, Adaptive Front Light System, Dusk-sensing and rain sensitive wipers, rear parking sensors) and £795 for Bose Sound System)
Last month at a glance: A new Abarth arrives rather noisily on the PistonHeads long-term fleet