It feels like I've lived in the CLS these past two months. We've racked-up over 5,000 miles and I have spent more time in its company than I have any sentient being. It's my surrogate wife. Just as well it's so flipping agreeable.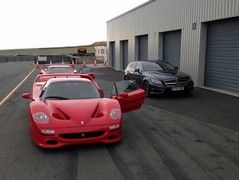 In the shade of flasher cars but not overshadowed
These longer, more involved machine/man relationships with go-faster models obviously place far more emphasis on the quality of the base vehicle than your normal one-week roadtest period. I have to say that if the CLS Shooting Brake is an appealing concept on paper, it's a brilliantly developed thing to live with. I spent some time in a 350 CDI version at the end of the summer and, yes, I missed being able to obliterate most other traffic, but what struck me was how much of the 'Brake's appeal is bound up in its presentation and demeanour.
Now I'm lucky here in that I have the perfect control vehicle with which to test the success of the CLS being a cut-above an E-Class - my family wagon is an E350 CDI. It's nicely specced, but it feels like a Stuttgart taxi after the CLS. And the comparison is even more favourable for the CLS if you match it against an Audi RS6. We had one in for a video shoot a few months back and the Merc's cabin felt way more expensive. There's hardly anything you can see or touch that isn't covered in expensive, waxy leather or Alcantara. The RS6 felt a class below in terms of materials used and, surprisingly, the way it was assembled.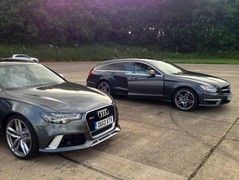 Feelgood factors humble the Audi RS6 Avant
The car has now covered 20,000 miles, 18K of which have been in my hands. I say mine, but videographer Neil spends a fair amount of time in it and his relationship with the car is actually more telling than mine. I like AMGs - I like the chassis, the steering and the way they fit with my expectation of what a stonkingly fast, practical road car should be, so the fact that this car pushes my buttons is no surprise. But Neil's a BMW M man. Cut him open and he's red, purple and blue.
At first all he would say about the CLS was that it was fast, but he reckoned I should have an M5. Over time that opinion softened - strangely these events coincided with him having to get to places with large quantities of kit, rather fast and in maximum comfort. The CLS does that about as well as any car I've used.
He softened further after we compared it to the RS6 and now, bless him, he sees the car as part of the family. He even washes it, because I never do.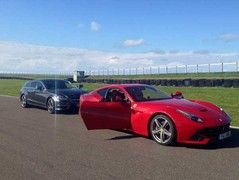 Another day, another Ferrari shoot at Anglesey
Some practical, mundane and odd things to report now. The pale grey hide wouldn't have been my choice, but I now really appreciate how airy and light it makes the cabin feel. The only problem is that a pair of my jeans has started to discolour the driver's seat. Not the car's fault I suppose.
The Harman Kardon hi-fi is just exceptional. I wouldn't touch the optional B&O effort. The combination of generous door bin and cavernous arm-rest cubby is a life-saver for a chaotic mess like me, but the glovebox is mean. I can seat three children in the back quite easily, one in a baby seat. I prefer the round steering wheel in our basic Benz to the quartic one in the AMG.
The combination of heated and air conditioned seats shouldn't work, but I fear my body will collapse when this cars leaves me. If you've been doing strenuous exercise, having a heat source keep your back supple whilst simultaneously de-sweating is plain genius. It is the ultimate luxury, as is the keyless go system, but again this has ruined me because I now walk up to test cars and just expect them to open without me pressing a key fob and start on a button.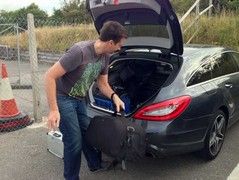 BMW man Neil has been converted to AMGs
Perhaps the best little attention to detail on all modern Mercs is the way you can slow to a halt, pop the driver's door open and the gearbox will automatically select Park. It drove me nuts at first, now I think it's cleverer than processed cheese and expect all other cars to do the same. Hence the M6 Gran Coupe that was recently seen driving itself in a Welsh village.
I also love the fact that the sliding visor underneath the sunroof was clearly designed for ordinary Mercedes models and not AMGs. Under full acceleration, it opens two inches. In the 350 CDI it doesn't.
I can fit two adult mountain bikes in the boot, the seats spring flat at the pull of a handle and even though the dog misses the E-Class's headroom, he seems quite happy back there.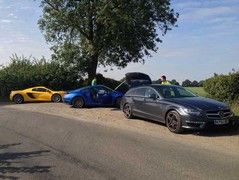 You need a rapid camera car in this company
The gearbox is now feeling old. Not as in worn out, but behind the curve relative to the competition. Jaguar and Audi have the stunning ZF eight-speed which beats the Merc for speed and slur, and the BMW double-clutch is also a better all-rounder. However, when you have this much torque, the 'box plays a secondary role. I love the sensation of manually short-shifting and feeling those turbos puff from 3,000rpm. It's addictive. As is the noise on start up.
But the thing I still can't quite get my head around is the fuel economy. On long runs, even moving quickly I'm seeing 26mpg. I couldn't get the RS6 beyond 19mpg.
I suspect a harsh winter might expose the CLS a little, and a previous experience of this car on winter tyres means I won't be fitting a set again. Some nice new regular rubber will do nicely, and if it snows, we'll probably just park her up. And go and do silly skids after dark.

---
FACT SHEET
Car: 2013 Mercedes CLS 63 AMG Shooting Brake
Run by: Chris Harris
On fleet since: April 2013
Mileage: 20,000
List price new: £97,419 (base price £83,030 plus £2,570 for locking differential, £990 for electric glass sunroof, £304 for privacy glass, £410 for reversing camera, £685 for comfort ventilated seats, £255 for Easy-Pack load securing kit, £930 Keyless Go, £2,696 Luxury package, £125 Safety net, £2,295 Driving assistance package, £295 Tyre pressure monitoring, £650 Harmon Kardon, £290 Telephone pre-wiring, £1,895 Forged alloys)
Last month at a glance: Lots of miles and lots of love for the CLS 'Brake