So the Focus has gone and the Trent household is now bereft of its lifestyle-friendly usefulness and trying to cram the same kit the ST swallowed with ease into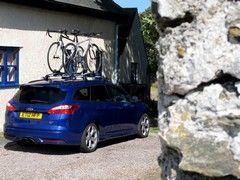 ST does the family holiday thing brilliantly
The BMW does channel its turbocharged power via the 'correct' wheels though, more on which later. Flashier, faster, higher quality and with readable nav that knows where it's going are points in the M135i's favour. But the Focus-shaped hole in my life is going to be one that's very hard to fill.
Heck, I know we're meant to be all about living the PH dream and four-wheeled escapism here on PH. But for those of us who need a sensibly priced car (we've covered this aspect, right?) that ticks all the boxes of practicality, vaguely rational running costs and a nice balance between rowdy hot hatch appeal and discreet family transport the Focus remains a killer package. I await a go in the new Octavia vRS with interest, this combining many of the Focus's attributes in an even stealthier package. But it's got a tough act to follow.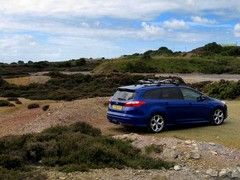 Estate ST arguably more handsome than hatch
One thing we were never able to settle in its tenure with us was this whole torque steer thing. Some who've driven it, Mr Garlick among them, consider it a bit of a deal breaker. Mark Walton
has been running an ST hatch as a long-termer and is even more vocal, saying, "On a bumpy or slippery surface the Focus swerves under acceleration like a suicidal bronco trying to buck off its rider." Autocar, meanwhile, said in its
, "And while the ST goes without a mechanical limited-slip differential or torque steer-reducing RevoKnuckle suspension, in the dry it gets its power down well enough and resists most corruption."
Matt, who's been driving the Focus in the twilight of its time here on PH, doesn't seem to have found it a significant problem. Indeed, we found a conveniently cambered and bumpy straight bit of country lane and, though various standing start/in-gear acceleration tests revealed there was some wander, he found it enhanced rather than spoiled the fun. Some have suggested it's a little less afflicted with the ESP in the mid setting but, either way, there must be a driving style or specific conditions that compound the problem specific to some drivers. And the ones it annoys seem really cross about it!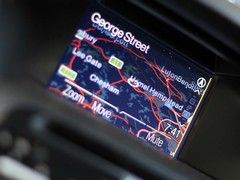 Ford looking into our nav issues
The final couple of weeks with the Focus definitively proved its versatility too, the Trent household packing it to the rafters for a holiday to Wales before bike racks and baby seats were stripped for a last-gasp track session at Blyton. And an opportunity for Matt to have the final word on the dynamics.
"The only genuine surprise from that list to me was the ability on track," he reported. "The traction and stability controls are really well calibrated for circuit work. With everything off, the wheelspin can get quite rampant, but that's to be expected with 265lb ft of torque going through the front wheels with no mechanical diff. It can also be coaxed into some rather silly oversteer." He was there with Mark Hales, who also had a go and seemingly approved. "When Mark comments how composed a car feels you know it's a good'un!" concludes Matt.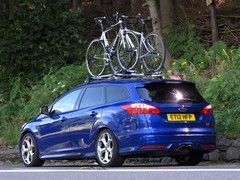 Bikes on roof didn't cramp the ST's style
And that sums the Focus up really. No, it's not as focused on track as the Megane we ran previously. But its range of ability is far wider and there aren't many family estate cars that you'd even consider taking for an occasional punt around a track.
Other than the sat-nav (Ford is looking into this for us) and one of the otherwise neat door protectors snapping off after fouling a partially opened rear door the Focus was utterly faultless in its time with us and this a press car with 10,000 miles of hammering by various hacks under its belt. I wouldn't be surprised if another one ends up on the Trent driveway at some point in the future, hopefully as a more permanent fixture.
---
FACT SHEET
Car: Ford Focus ST-3 Estate
Run by: The Trent household, Matt when he's allowed to
On fleet since: April 2013
Mileage: 11,453
List price new: £29,055 (Basic list of £26,595 plus £750 for Sony DAB Navigation System with Rear View Camera, £900 for Driver Assistance Pack, £200 for privacy glass, £85 for door edge protectors, £525 for Spirit Blue Metallic paint)
Last month at a glance: Last track hurrah before the men from Ford take their car back

---