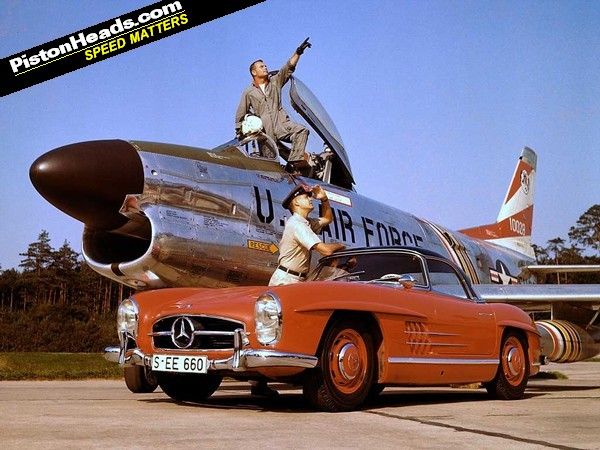 They don't do press pics like this any more, that's for sure... Researching some pics for his
rant about engines
earlier in the week Dan unearthed this glorious slice of 50s propaganda from the Mercedes picture archive. It certainly paints a lively picture of life in Cold War Germany as a pair of American fighter jocks do the classic 'point over there at something' male model pose aboard an F-86 Sabre Dog while a 300SL Roadster awaits for some flat out autobahn action beside.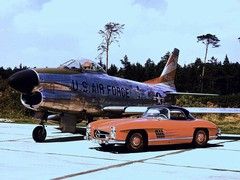 50s tech at its finest on land and air
Life peering over the Iron Curtain probably wasn't always so jolly but we can live the dream, while perhaps skirting over the fact the direct-injection technology that made the 300SL so notable (and its engine so mighty) had in fact been perfected by Daimler-Benz just a few years before for use in Messerschmitt 109s, gifting German pilots a get out of jail free card against carburettor-fed Spitfires and Hurricanes. Fuel injection meant the 109 could dive away, fuel supply unaffected by negative G, while British pilots would have to half roll to follow, losing precious seconds in the process. Disadvantaged or not, the Merlin gatecrashed the thread following Dan's blog about engines as one of the most emotive sounding motors ever so national pride and nostalgia prevail there too.
We digress.
The pic is cheesy as hell but since when has that been a reason not to.
Traditional (4:3)
Computer widescreen (16:10)
TV widescreen (16:9)
Portrait (smartphone, etc)