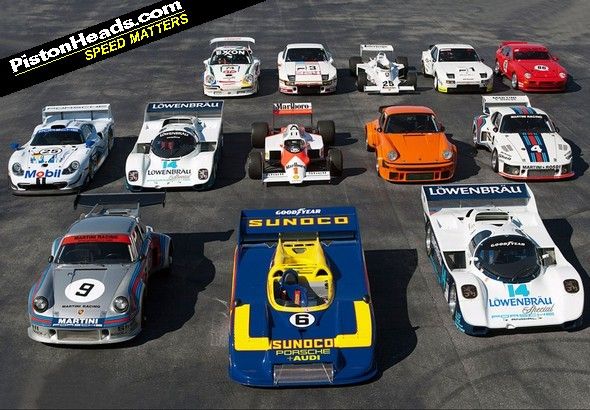 Fancy a Porsche 917/30? Of course you do: powered by a turbocharged flat-12, this is perhaps the most powerful racing car ever built, putting out up to 1580hp back in the early seventies. And who wouldn't want one of those?
Well, now's your chance to get hold of one, because an example of the iconic Can-Am racer is up for auction at Amelia Island on 9th March. There is one snag, though: the estimate is $3.25-$4m (£2-£2.5m). Which might be a little more than the majority of PHers can afford.
There is hope for those with more shallow pockets, however: the Sunoco 917 is part of the late Matthew Drendel's stunning collection of 18 Porsches, all of which are being auctioned by Gooding and Company. And 10 of the lots are without a reserve, so you never know - stick in a cheeky bid and see what happens.
You might end up with a Porsche/Tag-powered 1987 McLaren F1 car. Or a 968 Turbo RS factory prototype. Or any number of lovely Porsche, both racing and roadgoing versions.
Alternatively, you could just enjoy our wallpaper of a selection of those lots, and salivate longingly over the full list below...
Traditional (4:3)
Computer widescreen (16:10)
TV widescreen (16:9)
Portrait (smartphone etc)
1973 Porsche 917/30 Can-Am Spyder
Chassis 917-30-004
Estimate: $3.25 - $4 million
The Porsche 917 racing program was one of the most successful in the history of motor sport and the 1973 917/30 Can-Am Spyder represents its pinnacle. With a 1,000 hp turbocharged flat-twelve, American racing champion Mark Donohue's 917/30 was so dominant that the Can Am Challenge Cup was disbanded and the other manufacturers withdrew due to their inability to compete.

One of four examples completed at the Porsche factory, 004 was intended to be the 1974 Penske-Sunoco team car but was instead sold to Australian Porsche Importer Alan Hamilton. Later purchased by the Porsche factory, this car is now the centerpiece of the Drendel Family Collection. Meticulously restored and presented in the iconic Penske-Sunoco livery, this 917/30 has been raced at the Monterey Historics and has been displayed at the Amelia Island Concours d'Elegance and Rennsport Reunion.

1984 Porsche 962
Chassis 962-103
Estimate: $1.75 - $2.225 million
According to Gooding & Company specialists, this car is the finest example of the Porsche 962 and one of the most successful racing cars of its generation. With only two owners from new, this back-to-back 24 Hours of Daytona winner will be one of the Drendel Family Collection's most significant offerings at the auction with its immediately recognizable Löwenbräu livery, list of legendary drivers, unrivalled racing record and superb documentation.

1974 Porsche RSR Turbo Carrera 2.14
Chassis 911 460 9016 (R9)
Estimate: $1.75 - $2.25 million
The Carrera RSR Turbo 2.14 represents a turning point in the history of competition Porsches when it introduced the use of turbocharged engines in production-based race cars. Used by the factory for development, this hand-built experimental 911 was campaigned as a Martini & Rossi Porsche Works entry in the 1974 season at Nürburgring, Imola and Zeltweg. Few racing cars of this caliber have remained so correct and untouched, making this car an extremely important piece of Porsche history.

1976 Porsche 935/76
Chassis 930 570 0001 (R14)
Estimate: $1.7 - $2 million
The first 935 built, this car served as the prototype and development mule for one of the most successful series of Porsche racing cars. This historically-significant example ran as a factory team car under the recognizable Martini & Rossi livery and its podium finishes at Watkins Glen and Dijon helped Porsche capture the Group 5 World Championship in 1976. In addition to its impressive provenance and great originality, this factory race car has the remarkable distinction of being the first Porsche with a 930 serial number prefix.

1985 Porsche 962
Chassis 962-HR1
Estimate: $900,000 - $1.2 million
During its career, this Porsche achieved 11 overall wins and 19 podium finishes, as well as 2 IMSA GTP Drivers Championships and an IMSA GTP Manufacturers Championship. Along with its Holbert Racing sister car, 962-103, this 962 is one of the most significant 962s in history. Fresh from restoration, 962- HR1 was displayed at RennSport Reunion IV in 2011.

1997 Porsche 911 GT1 Evolution
Chassis 993-GT1-004
Estimate: $900,000 - $1.2 million
This rare factory team car – one of just four built - has competed at top events (Le Mans, Nürburgring and Laguna Seca) in the highest levels of international racing with known drivers behind its wheel. Later campaigned by Rohr Racing at Daytona and Harry Bytzek in the Canada GT Challenge Cup, GT1-004 has one of the most impressive racing records of any factory GT1.

1975 Porsche 934
Chassis 930 670 0155
Estimate: $800,000 - $1 million
The racing variant of the road-going 930, the 934 expanded on the success of the RSR, winning the European GT Championship as well as the TransAm Championship in North America. The second 934 constructed, this car was actively campaigned through the early 1980s, culminating in a first in class at the 1982 24 Hours of Le Mans. In regards to this car, noted Porsche authority Bruce Anderson was quoted as saying "it is the most successful 934 to race in international competition."

The remaining cars of the Drendel Family Collection, 10 offered without reserve, are listed below:

1980 Porsche 924 Carrera GT Le Mans
Chassis 924-003
Estimate: $450,000 - $600,000, Without Reserve
One of three Works entries at the 1980 24 Hours of Le Mans; placed 13th Overall with Bell and Holbert

1980 Porsche Indy Car
Chassis 0031
Estimate: $350,000 - $550,000
Intended as Porsche's return to open-wheel racing, the company's ground-breaking program was cancelled a month before the Indianapolis 500 s a result of last-minute USAC rule changes

1987 McLaren-Porsche MP4/3 Formula One
Chassis MP4/3/1
Estimate: $450,000 - $600,000, Without Reserve
The first MP4/3 built and the only example in private hands

1981 Porsche 924 GTP "Le Mans"
Chassis 924-005
Estimate: $375,000 - $450,000, Without Reserve
Factory prototype and development car, built to compete at the 24 Hours of Le Mans

1995 Porsche 911 GT2 Evolution
Chassis WP0ZZZ99ZTS393062
Estimate: $375,000 - $425,000, Without Reserve
The Champion Porsche, 1996 12 Hours of Sebring class winner

1992 Porsche 968 Turbo RS
Chassis WPOZZZ96ZNS820065
Estimate: $250,000 - $325,000, Without Reserve
Factory prototype with Le Mans and Sebring race history

1994 Porsche 911 Turbo 3.6
Chassis WP0AC2965RS480276
Estimate: $75,000 - $90,000, Without Reserve

1986 Porsche 944 Turbo Cup
Chassis WP0ZZZ95ZGN154076
Estimate: $65,000 - $85,000, Without Reserve

1988 Porsche 944 Turbo S
Chassis WP0AA2957JN151272
Estimate: $50,000 - $65,000, Without Reserve

1994 Porsche 968 Turbo S Clone
Chassis WP0AA2961RS820772
Estimate: $45,000 - $55,000, Without Reserve

1991 Porsche 944 S2 Cabriolet
Chassis WP0CB2949MN440106
Estimate: $25,000 - $30,000, Without Reserve