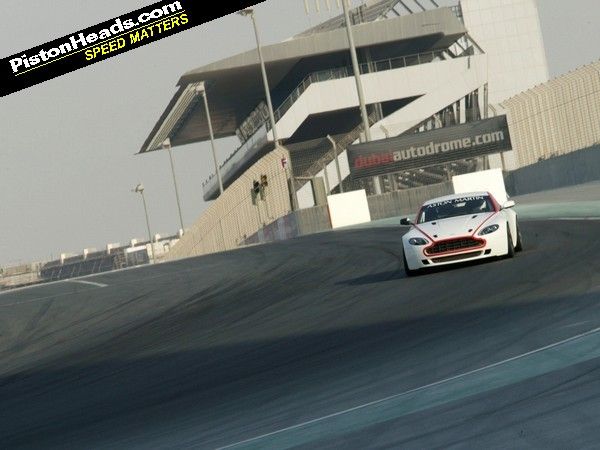 Quite often, we'll do our best to pick our Pic Of The Week based on one of the bigger stories we've featured on the site during the week. So when this image presented itself, which neatly brought together both the
100th birthday celebration
of Aston Martin and the
Dubai 24H
, we figured it was too good to miss.
OK, so this particular V8 Vantage GT4 wasn't taking part in the race, but it was shot at the Dubai Autodrome, home to the 24H. And, alone on the track, braking hard into the first corner and lit by nothing but the setting desert sun, it looks like pure driving heaven.
The picture was taken as one of the launch images for the GT4, a car which upholds the best traditions of Aston's motorsport heritage, having been designed to be eligible for a host of endurance series throughout the world. Based on the N24, it features a race-spec 4.7-litre V8 and weighs just 1,330kg, making it 300kg lighter than the standard V8 Vantage. An ideal car, then, with which to continue our celebrations of Aston's centenary.
Traditional (4:3)
Computer widescreen (16:10)
TV widescreen (16:9)
Portrait (smartphone, etc)