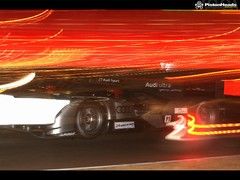 Click to preview
Yep, it's Friday at Le Mans, and as everyone we know concentrates on not getting too sozzled before the PH
Le Bounty
meet (we can only hope!), here's the regulation-issue blurry 'night before' shot of pole-man Benoit Treluyer's Audi R18 TDI during
final qualifying
for the benefit of fellow stay-at-home types.
Jeff Bloxham of the LAT Photographic agency squeezed the shutter button, and while some may consider images like this a little on the high side of cheesy - we don't care, because it's part of what the classic Le Mans experience is all about. Too much wine or beer, resulting in slightly blurry vision as some noisy racing cars go by. (Riggers, haven't you had enough of the 1664 already?)
In case you were wondering, Treluyer's pole-clincher was 3m 25.738s, giving Audi its first pole since 2006 (it says here...). Team mate Romain Dumas got another Audi on the front row, while Nishy's car will start from 5th after Tom Kristensen pranged it at Tertre Rouge.
It could have been a different story, had not Peugeot's Simon Pagenaud been hampered by a puncture on his final hot lap - he starts third, and the Sarrazin/Minassian/Montagny Peugeot is 4th.
And the AMR-One LMP1s? Still 'gathering data' rather than competing, and they'll start from 22nd and 25th spots. (Yes, we've been promised they will start...)
The race kicks off tomorrow at 3pm, as you know. Why haven't you lot left already?
Normal (1280x1024)
WideScreen (1440x900)
SuperSize (2048x1536)