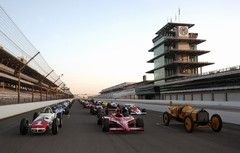 Preview - click to enlarge
This amazing event took place on the famous Indianapolis Motor Speedway on October 12th, so it should probably have been POTW last week. What can we say? We missed it!
What we missed, was that as part of the Speedway's Indy 500 Centennial celebrations, the IMS 'Hall of Fame' museum was emptied of all its goodies for a day - so they could be lined up for a spectacular photo (and video) shoot.
You can read more about the event on the official blog here. Meanwhile, we offer this fabulous image as our (belated) Pic Of The Week.
Click below to download this weeks wallpaper:
Normal (1280x1024)
WideScreen (1440x900)
SuperSize (2048x1536)