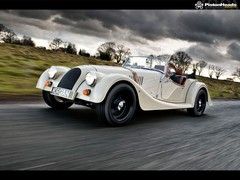 Click to preview
Open Season is still in full swing here at PH Towers, with at least two of our number planning open-air Christmas sojourns with topless lovelies. (
Easy now, Riggers - Ed
).
But we feel that there are those of you out there who might be faltering.
So to encourage you all to keep the Open Season spirit burning through a very cold Christmas, today's POTW features a Morgan doing its roof-down thing in a most British way, albeit in wrong-hand-drive form and on the wrong side of the road - suggesting this heroic British driver might in fact be German. (Right, stop that hissing at the back. Just because The Dam Busters may be on the telly over Xmas, there's no excuse...)
Yes, in the true spirit of Open Season, we applaud Morgan drivers (wherever they come from) for their almost universal antipathy to driving with the roof up. It's not as though it's difficult to put the roof up on a Moggie without losing skin, eh..?
Normal (1280x1024)
WideScreen (1440x900)
SuperSize (2048x1536)