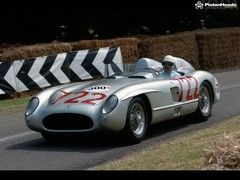 Click here to preview
We've just learned that Sir Stirling is scheduled to attend the FoS again this year, in spite of his recent encounter with the bottom of a lift shaft - an event he memorably described to the newspapers as 'my most annoying accident ever'. We're not sure if he'll be driving, but it's possible he'll be getting behind the wheel of a Maserati Birdcage a little er, bird tells us.
Pending an announcement, here's a pic of the great man at the wheel of his 1955 Mille Miglia winning Mercedes Benz 300 SLR at Goodwood in 2005.
See you again this year, Sir Stirling!
Normal (1280x1024)
WideScreen (1440x900)
SuperSize (2048x1536)
PS. The Festival starts with the all new Moving Motor Show on Thursday July 1st, when many of the FoS delights will be available to drool over in the paddock, even if you won't seem them in action on the hill. PistonHeads will have a stand in the trade area, so don't forget to come and say hello.