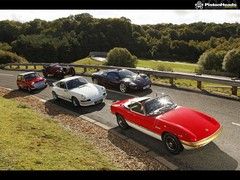 Click image to preview
The sun was shining the other day, so the eds team here at PH we thought we'd get our personal cars out of the garage, take them up to Millbrook and blow away a few cobwebs...
Oh, all right then. Actually it was a Classic and Sportscar magazine day out organised for their new 'Best Ever Driver's Car' feature, and we weren't invited. In fact the rotters didn't even tell us about it, even though they only sit a twanged rubber band's flight away from us here at PH Towers.
Still, you'll be interested to hear the magazine's final choice of best driver's car ever was (wait for it...) the Porsche 911 Carrera RS 2.7, which pipped the Macca F1 to the title.
Also in the running were these other cars pictured in this glorious shot of the top five contenders - an Alfa 8C (swoon...), Lotus Elan Sprint and Mini Cooper S.
Something for everyone then, except us. Pass the pea-shooter!
Normal (1280x1024)
WideScreen (1440x900)
SuperSize (2048x1536)