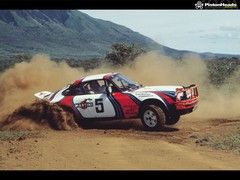 Click to preview
We know we've been a bit rally-heavy with POTW of late, but when we spotted this pic of Bjorn Waldegard getting gloriously sideways in the 1978 Safari rally it was a bit of a no-brainer.
Oh, and our other excuse for using it? Young Bjorn happens to be grabbing a dab of oppo in a Porsche 911. Which (as if we needed to remind you) we've been mildly obsessed with this week in anticipation of editor Trent's first drive of the all-new 911 (though if you're reading this on Saturday we should perhaps say in celebration of said first drive).
And even if you're not a Porsche fan, you'll probably still enjoy Waldegard's flamboyant cornering style.
Normal (1280x1024)
WideScreen (1440x900)
SuperSize (2048x1536)